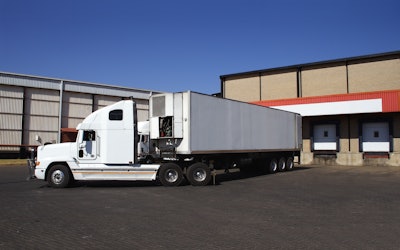 Data from Truckstop.com and FTR Transportation Intelligence for the week ending Oct. 8 showed weaker volume than the prior week, but the nearly 9% decline was only slightly greater than seasonal expectations. Comparatively, truck availability rose 9.2% – the strongest increase in truck postings since mid-July.
During 2015 through 2019, spot volume on average fell nearly 7% during the first week of October as the final week of September typically is the peak of volume in the second half of the year. However, both Truckstop.com and FTR expect volatility at least through the holidays due to the various supply chain constraints that the economy continues to experience.
Spot rates, according to Truckstop.com, declined for the fifth straight week – in line with seasonal expectations. Total rates are bolstered by rising diesel prices, which are running more than $1 a gallon higher than a year ago. Rates including fuel were nearly 20% higher than the same 2020 week. Excluding fuel surcharges, rates were about 14% higher.
The Market Demand Index (MDI) fell to 137.7, which is the lowest level in four weeks. The Van MDI decreased 52.4 points to 183.1 as load availability fell 12.6% and truck availability rose 12.4%. Refrigerated MDI fell 8.8 points to 163.4 as load availability decreased 2.5% and truck availability increased 2.8%. Flatbed MDI decreased 23.7 points to 184.7 as load availability fell 8.1% and truck availability rose 3.7%. Specialized MDI decreased 6.0 points to 22.8 as load availability fell by 6.7% and truck availability rose 17.9%.
Reefer lanes continue to rocket
Reefer capacity remains tight even though DAT load-post volumes decreased by 8% for the week ending Oct. 9. Equipment posts fell 5% week over week and the national average reefer load-to-truck ratio dipped from 14.3 to 12.5. The national average spot reefer line-haul rate was $2.86, up 3-cents compared to the previous week, according to DAT.
With domestic harvests winding down, meaningful volumes of imported produce are arriving at U.S. ports. The average spot reefer rate from Philadelphia was up 2-cents to $2.97 per mile last week. Philadelphia to Chicago averaged $2.74 a mile, up 95 cents year over year, and Philadelphia to Boston hit a record of $5.47 per mile, almost $1 a mile higher than the same week last year. Reefer rates from Los Angeles to Las Vegas averaged $6.10 per mile last week.
Load volumes in the Yakima Valley have led to tight reefer capacity in the region, which produces apples, pears, and other tree-fruit. Reefers from Yakima to Los Angeles averaged $2.33 per mile last week, up 40-cents year over year, and Yakima to Hunts Point, N.Y., averaged of $2.99 per mile.
At $2.52 per mile excluding fuel, according to DAT for the week ending Oct. 9, dry van rates are 13% (or 33-cents per mile) higher year-over-year, and almost $1 per mile higher than the 10-year average for the first shipping week of October.
DAT saw dry van load post volumes drop 13% week-over-week. Equipment posts increased 10% week-over-week, which sent the national average load-to-truck ratio lower from 7.1 to 5.6.
The average flatbed spot rate is 40-cents per mile higher than the same week last year, and 55 cents higher compared to the same time in 2018 when rates were on a rally. Flatbed load-post volume increased 5% compared to the previous week and are 60% higher year over year. Load-post volumes have increased for four weeks straight. Flatbed equipment posts were up 7% week over week, and the national average flatbed load-to-truck ratio decreased from 56.4 to 55.0 last week.
All rates exclude a fuel surcharge. Diesel averaged $3.48 per gallon last week. With fuel prices on the upswing, surcharges have been in the range of 36 to 37 cents per mile.