Trucking news and briefs for Tuesday, Dec. 14, 2021:
Trucking conditions hit lowest point since July 2020
FTR's Trucking Conditions Index (TCI) measure for October fell to a reading of 7.75 – the weakest reading since July 2020 – because of a surge in diesel prices. Had fuel prices been a neutral factor, FTR says, the change in the index from September's 11.79 reading would have been negligible.
Freight rates remain the largest positive factor, although they were modestly less positive in October. However, freight volume and utilization were stronger positive factors than they had been in September. Fuel costs have now stabilized, and the TCI outlook is for solidly positive readings well into 2022.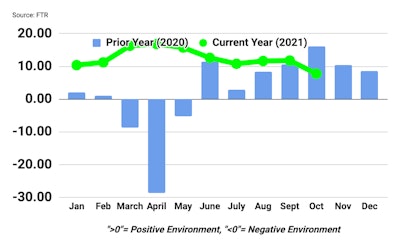 "October was an outlier due to the brief surge in diesel prices, but conditions in 2022 are unlikely to be quite as robust for carriers as they are today," said Avery Vise, FTR's vice president of trucking. "We expect slower growth in freight volume and a slight easing of capacity utilization resulting in a gradual stabilization of freight rates at an elevated level. Even so, market conditions should favor carriers at least into 2023. Potential downside risks for this outlook include further gains in driver capacity and a sharply reduced consumer spending due to inflation and a loss of stimulus. However, the pent-up demand in the automotive sector could offset any softening due to those factors."
EPA administrator test drives Volvo electric truck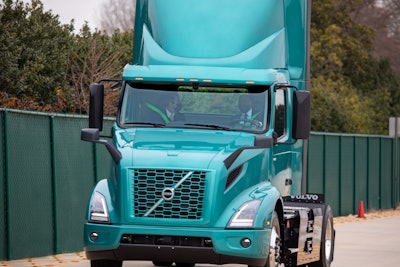 Volvo Group North America (VGNA) last week hosted Michael Regan, administrator for the United States Environmental Protection Agency (EPA) and Ray Curry, president of the United Auto Workers Union (UAW) at its headquarters in Greensboro, North Carolina.
In addition to discussing the Volvo's commitment to environmental sustainability in both current and future products, the visit allowed the guests to test drive the latest zero-emission, fully electric, heavy-duty trucks from the Group's Volvo and Mack truck brands.
"It was an honor to host Michael Regan and Ray Curry on our campus, and to discuss the Volvo Group's work toward achieving net-zero greenhouse gas emissions by 2040," said Martin Weissburg, chairman of Volvo Group North America and president of Mack Trucks. "We appreciated the opportunity to show them the fully electric vehicles we're building today in our U.S. factories, and give them some insights into our plans for continued leadership in the transformation to a more sustainable transportation industry."
During the visit, Regan and Curry had the opportunity to test drive the Mack LR Electric refuse truck and the Volvo VNR Electric regional hauler, both of which are sold in the U.S. and Canada and are part of Volvo's global stable of zero-emission, battery-electric Class 8 trucks, buses and equipment commercially available in the marketplace today. 
Additionally, test drives of the company's long-haul Class 8 truck models, the Mack Anthem and Volvo VNL 760, demonstrated the latest in clean-diesel technology with the highest fuel-efficient powertrain offerings from both truck brands.
Certain Kenworth, Peterbilt car-haul, wrecker models recalled by Paccar
Approximately 908 model year 2019-2022 Kenworth T880, W990, Peterbilt 567, 579, 389, and 2022 Peterbilt 536, 537 wrecker and auto hauler trucks are being recalled by Paccar for an issue affecting the work/winch brake, according to National Highway Traffic Safety Administration documents.
The winch brake in the affected trucks may unintentionally disengage the service brakes during winching operations, causing the trucks to roll.
The cause of the problem is described as: "Slight vehicle movement during winching causes the wheel speed sensor to detect vehicle movement. There is 'noise' in the wheel speed sensor at lower vehicle speeds, and erroneous values are communicated. These erroneous values exceed the speed interlock, causing the work brake to disengage."
Dealers will update the vehicle software for free as a remedy to the issue. Owners may contact PACCAR customer service at 1-425-828-5888 (Kenworth) with recall number 12KWG; or 1-940-591-4220 (Peterbilt) with recall number 21PBM. NHTSA's recall number is 21V-906.
Women in Trucking seeks nominees for 2022 Distinguished Woman in Logistics award
The Women in Trucking Association, Truckstop.com, and the Transportation Intermediaries Association are seeking nominations for the 2022 Distinguished Woman in Logistics Award. The award started in 2015 to recognize outstanding individuals for their achievements and leadership in logistics.
"Each year we look forward to recognizing exceptional women in the logistics field with this award," said Ellen Voie, president and CEO of WIT. "The impressive nominations are proof that women continue to elevate the supply chain industry."
Sponsored by Truckstop.com and TIA, the award is open to high-performing women in any field related to logistics, including supply chain management, third-party logistics, and trucking.