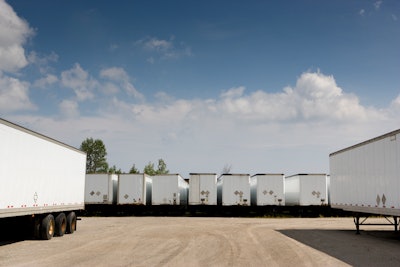 Trailer manufacturers are closely watching order intake, keeping numbers relatively consistent month to month.
February net U.S. trailer orders hit 27,041 units – up about 1% from the previous month and 6% compared to February 2021. Before accounting for cancellations, according to ACT Research, new orders of 28,100 units were virtually unchanged compared to January but up almost 3% from the previous February.
"Tight order control, bordering on order allocation, continues to be the norm for the industry. While demand for equipment continues at a torrid pace, OEMs are carefully metering orders to production levels," said Frank Maly, director of commercial vehicle transportation analysis and research at ACT Research. "Small fleets and dealers continue to struggle to obtain equipment, as discussions point toward larger players willing to make large volume commitments."
OEMs have kept a backlog-to-build ratio in a tight range between 7.4 months and 8.4 months since June.
"However, February's 8.1-month level commits the industry into early November," Maly said, "and we will soon be approaching a backlog-to-build ratio that will extend into the new year, where new model years and new pricing commitments could complicate order acceptance."
Some reports indicate that fleets are willing to make sizeable commitments that would extend well into 2023, but Maly said it seems some OEMs are unwilling to push the order board to those extremes.
"Support from the supply chain, as OEMs attempt to ramp output, will be the controlling factor on any order surge," he said.
Despite widespread volatility – including surging diesel prices, falling truckload rates and a ground war in Ukraine that's dragged on for more than a month – ACT's President and Senior Analyst Kenny Vieth said there is still much to like about the current U.S. economic setup, as jobs continue to outstrip the supply of labor, corporate profits come off record performance in 2021 and consumer balance sheets remain well positioned.
For buyers of commercial vehicles, Vieth said the coronavirus continued to bend consumer spending to goods and away from services in early 2022. Port backlogs and inventory restocking should support freight volumes through the first half of this year, he added, "but the longer oil prices remain elevated, the more business and consumer dollars will be diverted."
"In addition to significant lingering port congestion, pent-up demand in the manufacturing sector broadly remains elevated, and corporate profits continue their record-setting run, allowing businesses to invest in productivity enhancing equipment," Vieth said.
Used commercial vehicle prices are at record levels across Class 8 age and mileage nodes and similar data indicates record valuations for medium-duty trucks and trailers.
"As 2022 progresses, it is becoming increasingly clear that any victory in the form of higher production and sales is going to be hard fought," Vieth said. "Be it inflation, supply chain or now heightened geopolitical concerns, makers and buyers of commercial vehicles will face more challenges in discharging their duties this year."