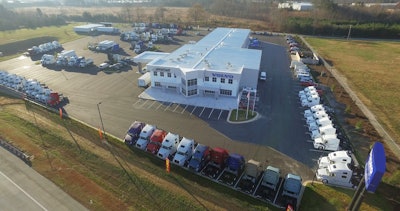 In a remarkable streak of consistency, heavy truck orders have varied less than 400 units per month for 2022.
At 21,500 units, North American Class 8 net orders last month also fell inline with the 21,300 truck average established over the previous seven months, according to FTR. March's order volume was up 3% month-over-month and down 47% year-over-year.
While orders have been moving sideways for most of two quarters, ACT Research President and Senior Analyst Kenny Vieth noted that March's intake for Class 5-8 trucks was the best since October.
Class 8 orders have totaled 300,000 units over the last 12 months, constrained mostly by OEMs booking orders a month at a time due to component and labor shortages, and accepting orders at a level just under current production rates to keep backlogs in check.
The heavy truck backlog currently sits at just less than a year, and orders are expected to hover around 21,000-and-change until OEMs have confidence in improved future supply chain performance, said Don Ake, vice president of commercial vehicles for FTR.
"The March order total reflects a market frozen in place," Ake said. "All the OEMs are evaluating the business environment monthly and only entering enough orders to fill in about a month's worth of production in the schedule. March's number indicates that production levels stayed flat."
Vieth added that recent economic news, including freight and freight rate data, has been less positive, "but we reiterate that the ground rules of ACT's OEM data collection remain the biggest constraint on orders presently: The OEMs only report orders that are scheduled to be built within 12 months. With the Class 8 backlog-to-build ratio at 11 months in February and the medium-duty backlog-to-build ratio at around 8 months, order volumes since early Q4'21 have largely been mirroring production activity. In both cases, backlog-to-build ratios are essentially double normalized levels."
Once supply chain issues improve, Ake said OEMs will be able to substantially increase orders. But until then, conditions remain stagnant. "Several automakers recently announced computer chip supplies remain tight," he added, "but there are still expectations of supply chain improvements in the second half of the year."