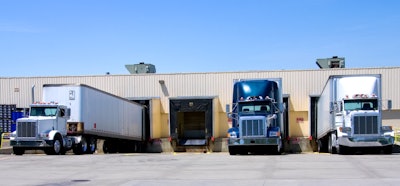 An early spring dip in spot market load volume has become a COVID-19 side effect that the freight market can't seem to shake.
With long-term freight contracts kicking in for larger carriers, and the beginning of summer retail and produce season, load volumes from week 9 to week 15 of the year are typically on an upswing. However, the total number of loads posted on the DAT One network fell 13% last week and the overall number of loads on the network is down 27% since the first week of March.
Van loads fell 13% week-over-week last week and the number of reefer loads fell 7.5%. Flatbed load count declined almost 15%. DAT noted that all three equipment types are soft and the angle of decline is not typical.
Pre-pandemic, according to DAT, the historical percentage change in the total number of loads posted to the DAT network from week 9 to week 15 had been positive, posting gains of 11.3% (2017); 11% (2018) and 5% (2019). COVID sent loads cratering -62% in 2020 before bouncing back – yet remaining in negative territory – to -16% in 2021 and -28% this year.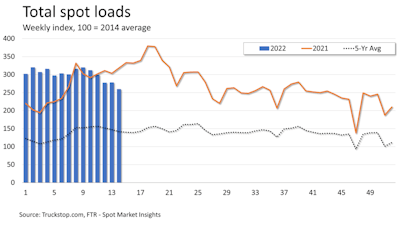 An important factor is that April 3-9, there were more loads on the DAT network at this point in 2022 than in any year except 2021. There were 18% more loads posted last week compared to the same period in 2018, and 18% fewer compared to 2021 – a dataset that shows how much the spot market has become a major part of shippers' portfolios in the last two years; how more small carriers are relying on the spot market to get their loads; and how challenging the current cost/rate environment is for small carriers that haven't been socking money away for the rainy-day fund.
The total number of trucks posted on the DAT One network increased 9% last week. Dry van equipment posts increased 9.4%, reefer equipment posts increased 7.4% and flatbed equipment posts increased 13.2%. DAT logged more trucks on the network last week than there have been at any point so far this year, and the most since the week before Thanksgiving 2021.
As such, load-to-truck ratios declined for all three equipment types. The van load-to-truck ratio was 3.4 as a national average, down from 4.3 loads per truck. Reefer load-to-truck ratio was 6.6, down from 7.6 and flatbed load-to-truck ratio was 63.0, down from 83.6. While ratios have fallen from historic highs in January and February, van and reefer ratios are almost identical to the same week in 2018.
Total load availability on Truckstop.com was more than 18% below the same week in 2021 but about 83% above the five-year average for the week. If volume were to hold steady, it would remain negative year-over-year through June. Loads were up slightly in the Southeast and flat in the South Central region but were down sharply in all other regions.
As supply and demand drift closer to equilibrium, rates tumbled last week. Van freight posted to DAT averaged $2.89 a mile, down 6 cents from the week before. Reefers averaged $3.18 a mile, down 7 cents from the previous week and flatbeds averaged $3.34 a mile, up 4 cents from the previous week.
Removing the fuel surcharge, rates look measurably worse. Van: $2.25 per mile, down 7 cents compared the previous week; reefer: $2.55 per mile, down 5 cents; and flatbed: $2.70 per mile, unchanged. Despite the slide, rates are still high. At $2.89 a mile, the national average van rate is 3 cents higher compared to the same time last year. However, spot rates are falling quickly at a time when costs have jumped.
Data from Truckstop.com and FTR Transportation Intelligence for the week ending April 8 show that the flatbed segment set a record for spot rates for the third straight week, but dry van and refrigerated rates continued to fall. Exclude an estimated fuel surcharge, no segment is seeing spot rates that keep pace with fuel costs. Total dry van rates fell for the second straight week on Truckstop.com while refrigerated rates fell for the thirteenth week in the past 14 weeks. Although total spot rates were about 12% higher than the same 2021 week, excluding an imputed fuel surcharge, rates were down more than 19% year-over-year with the biggest declines occurring in dry van and refrigerated.
Since the beginning of March, the national average spot van rate is down 30 cents a mile, fuel is up $1.12 a gallon and the number of available van loads on the network has fallen 33%.
According to DAT, brighter days for van carriers could come out of the Lone Star State. While seaports will be a storyline to watch all summer, more van loads are coming across the southern border into Texas from Mexico. The van load-to-truck ratio in Laredo averaged 16.2 over last seven days and McAllen averaged 24.1. Spot van loads from Laredo to Dallas averaged $3.66 a mile last week, 11 cents better than the March average, according to DAT RateView. McAllen to Dallas averaged $3.13 a mile.
With truck postings rising significantly, Truckstop.com's Market Demand Index fell to 104.4, which is its lowest level since December 2020.