Trucking news and briefs for Tuesday, Oct. 25, 2022:
Trucking conditions improved in August to near neutral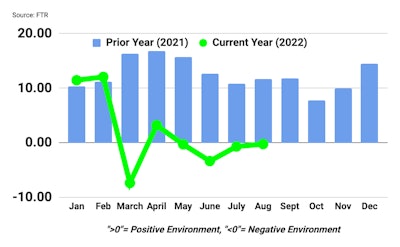 FTR's Trucking Conditions Index (TCI) improved slightly in August to -0.25 from the previous -0.7 reading in July.
The marginally stronger trucking conditions were due almost exclusively to falling diesel prices, FTR said. The largest negative factor was financing costs as the Federal Reserve continued to battle inflation through sharp increases in the federal funds rate.
Meanwhile, freight market dynamics were slightly weaker in August than in July, although freight volume was still a tiny positive contributor to the index calculation.
FTR still sees trucking market conditions in a period of moderate weakness at least through 2023.
"Although truck freight dynamics are softening broadly, smaller carriers likely will see a disproportionate negative impact in overall financial conditions due to sharp increases in financing costs and great volatility in diesel prices," said Avery Vise, FTR's vice president of trucking. "Because small carriers are less likely to have reliable fuel surcharges in place, they typically feel the effects of changing diesel prices more profoundly than larger carriers do."
Vise said that while that situation helped in July and August with falling diesel prices, "it will turn out to be a big negative in October at least." He added that small carriers will also be less likely than larger carriers "to achieve comfortable financing terms for equipment and other needs for capital."
Digital dash display freezes prompt large Paccar recall
More than 76,000 Kenworth and Peterbilt tractors are being recalled over an issue with the trucks' digital dash display to freeze and fall out of compliance with Federal Motor Vehicle Safety Standards.
According to National Highway Traffic Safety Administration documents, Paccar is recalling approximately 76,492 vehicles equipped with 15-inch digital dash displays. Affected trucks include certain 2022-2023 Kenworth T680, T880, W990, and Peterbilt 365, 367, 389, 567, and 579 models.
The recall states that the digital display may freeze and not display critical safety information. As such, these vehicles fail to comply with the requirements of Federal Motor Vehicle Safety Standard numbers 101, "Control and Displays" and 102, "Trans Shift Lever Seq/Starter Interlock/Trans Braking Effect."
Dealers will update the software, free of charge. Owner notification letters are expected to be mailed Dec. 16. Owners can contact Kenworth's customer service at 1-425-828-5888 and Peterbilt's customer service at 1-940-591-4220 with recall numbers 22KWK (Kenworth) and 22PBK (Peterbilt). NHTSA's recall number is 22V-779.
Grammer Logistics acquires Logistics Management Resources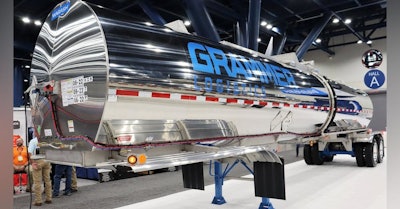 Chemical and industrial gasses hauler Grammer Logistics has acquired Logistics Management Resources (LMR), a Baton Rouge, Louisiana-based provider of third-party logistics services to the chemicals industry across all modes of transportation for more than 40 years.
Grammer CEO Scott Dobak said the acquisition supports the company's strategy of providing a diversified offering of both asset and non-asset services. "We believe this integrated approach is the future of chemicals logistics," he said.
Grammer has significantly scaled its footprint, service offering, and operational capabilities in recent years through a combination of strategic acquisitions and organic growth initiatives.
The LMR team will remain with the company, including LMR's President and CEO Heston Hodges, who will lead Grammer's transportation management division.
"By combining the expertise of both companies, it creates a win-win combination. All stakeholders will benefit from the additional services that LMR and Grammer will jointly offer to the marketplace," Hodges said. "Our clients gain access to an internal fleet of highly-specialized drivers and equipment, and the strong carrier relationships we have developed over years will be further supported by the additional opportunities available through the combined platform."