Trucking news and briefs for Thursday, Oct. 20, 2022:
ATA: Truck freight rebounded slightly in 2021
The trucking industry moved 10.93 billion tons of freight in 2021, generating $875.5 billion in revenue, according to the latest edition of American Trucking Associations' American Trucking Trends 2022.
"The overall truck freight market bounced back in 2021 after falling in 2020," said ATA Chief Economist Bob Costello. "Trends is a valuable resource to track changes in our industry, and this year's edition is no different. This year's report found that despite a challenging environment, trucking did experience growth and maintained its position as the dominant freight mode."
Among the findings in trends, in 2021:
Trucks moved 10.93 billion tons of freight – up from 10.23 billion tons the previous year
The industry collected 80.8% of the nation's freight bill, up slightly from the previous year
Trucking employed 7.99 million people in industry-related jobs, up 340,000 from the previous year, including 3.49 million professional truck drivers
Women made up 7.9% of the nation's drivers – an all-time high – and minorities account for 46.1% of truck drivers
Trucking remains a small-business industry with 95.7% of fleets operating 10 or fewer trucks, and 99.7% operating less than 100
Trucks moved 66.1% of the value of surface trade between the U.S. and Canada and 82.7% of cross-border trade with Mexico, for a total of $828 billion worth of goods
"ATA believes in data-driven policy making, and Trends consistently provides accurate and up-to-date information so industry leaders can base their decisions on the best data available," said ATA President and CEO Chris Spear. "Trends is a trusted source of information on our industry and the economy and that is why it is found on the desks of countless elected officials, regulators and industry executives across the country."
Truck tonnage up again in September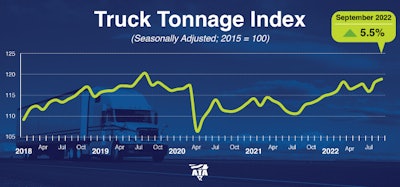 American Trucking Associations' advanced seasonally adjusted (SA) For-Hire Truck Tonnage Index increased 0.5% in September after rising 2.1% in August. In September, the index equaled 118.8 (2015=100) versus 118.2 in August.
"The latest gain put tonnage at the highest level since August 2019 and the third highest level on record," said ATA Chief Economist Bob Costello. "This is another example of how the contract freight market remains strong despite weakness in the spot market this year. During the third quarter, tonnage increased 0.5% over the second quarter while increasing 5.6% over the same period in 2021. That was the largest quarterly year-over-year increase since the second quarter of 2018."
Compared with September 2021, the SA index increased 5.5%, which was the 13th straight year-over-year gain. In August, the index was up 6.7% from a year earlier. Year-to-date through September, compared with the same period in 2021, tonnage was up 4%.
The not seasonally adjusted index, which represents the change in tonnage actually hauled by fleets before any seasonal adjustment, equaled 119 in September, 3.8% below the August level (123.7).
Freight volumes, spending slide in third quarter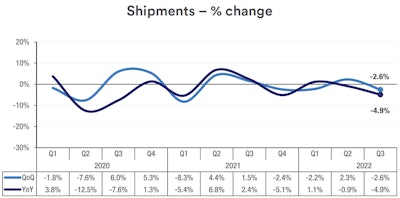 Truck freight volume dropped 2.6% from last quarter and 4.9% year-over-year, according to the 2022 U.S. Bank Freight Payment Index released on Wednesday. In recent history, with 2020 as an outlier, U.S. Bank has reported third-quarter freight volumes declining or holding mostly flat quarter-to-quarter.
The 2.6% quarterly decrease seen in the third quarter of 2022 represents the index's steepest quarterly drop in shipments since Q1 of 2021, and only a surge of freight activity in the Southwest region staved off a harsher decline, with volumes in that region up 5.8% over Q2 and 6.6% over last year.
Spending from shippers also dropped 2.4% from last quarter, marking only the second quarterly decrease in spending since Q3 of 2020. However, Q3 spending remains 10.6% up year-over-year as fuel prices continue to drive shipping costs.
"Lower freight volumes, as well as dropping diesel prices in the quarter, led to the linked-quarter spending contraction," said Bobby Holland, U.S. Bank vice president and director of Freight Data Solutions. "Even with the third quarter dip, spending by shippers is till at near record levels for the history of our index."