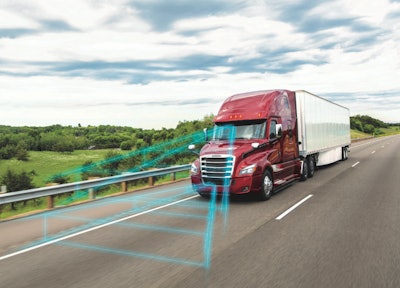 Detroit has added new features to the Detroit Assurance suite of safety systems including features that reduce driver strain and fatigue and can help reduce speed-related accidents.
Available for the Freightliner Cascadia and the Western Star 49X spec'd with a Detroit powertrain, the new Detroit Assurance features include:
Active Speed Intervention (ASI)
If the truck exceeds the posted speed limit, ASI issues visual and auditory warnings to actively alert the driver. Once the warning is issued, and depending on how far above the truck is over the speed limit, ASI will go into effect and de-throttle the engine for two seconds, adjust Adaptive Cruise Control (ACC) to the posted speed limit or cancel ACC. In addition to helping remind drivers of posted speed limits.
Active Lane Assist (ALA) with Auto Stop
Exclusively available on the Freightliner Cascadia, ALA with Auto Stop actively brakes the truck to a safe stop rather than letting the truck roll to a stop in case of an incapacitated driver, or if the driver's hands are off the steering wheel for more than 60 seconds. When ALA's Auto Stop function activates, Lane Keep Assist (LKA) keeps the truck centered in its lane while the truck safely and gradually brakes down to 0 mph. After coming to a stop, the vehicle doors automatically un-lock and the interior lights flash in an S.O.S sequence, alerting other motorists that assistance is required.
Brake Hold Mode
After coming to a stop, the driver further presses the brake pedal to activate the Brake Hold Mode function, reducing the need for the driver to continually press the brake pedal down in prolonged periods of standstill. The brake will not deactivate if the driver's foot is removed from the brake pedal due to fatigue or slippage. Tapping the brake pedal or pressing the accelerator starts moving the truck again.
By providing drivers with tools such as Detroit Assurance, Daimler Trucks North America Senior Vice President of Sales and Marketing David Carson said, "we help mitigate potential accidents, as well alleviate driver fatigue and strain, which will help drivers stay more aware and make their jobs a little bit easier."
The full Detroit Assurance suite of safety systems includes access to the Detroit Connect portal, which provides fleets access to critical information on the performance of their vehicles such as vehicle location, fault codes, diagnostics and fuel performance. Detroit Connect also offers valuable safety insights into driver behavior and safety critical information when Detroit Assurance features are activated, such as providing a detailed event report when Active Lane Assist with Auto Stop brings the vehicle to a complete stop. With this information, fleets can intervene to help their drivers that require immediate assistance.