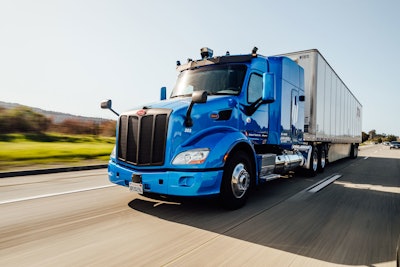 Embark Trucks, a developer of autonomous technology for the trucking industry, said that carriers participating in its Partner Development Program (PDP) have placed a combined 14,200 reservations for Embark-equipped autonomous trucks.
The non-binding reservations give the carriers, which include trucks for CCJ Top 250 fleets Knight-Swift (No. 4) and Mesilla Valley Transportation (No. 71), priority access to Embark-equipped trucks during a five year period beginning with the 2024 commercial launch of the Embark Driver software.
The portion of the 14,200 reservations – – made within the PDP allocated to 2024 would represent, if confirmed by orders, over 40% of the trucks necessary for Embark to meet its revenue projections for 2024, based on Embark's go-to-market plan and forecast assumptions.
"There is a strong case for early deployment of Embark's technology in key segments of our network, where it can be used as a tool to provide critical safety enhancements for our drivers and ultimately work towards the goal of improving the driving job" said Dave Jackson, CEO of Knight-Swift "Our management team has worked closely with Embark to weigh the unique benefits in speed, cost and sustainability against the operational and technical hurdles of deployment at a lane-level, enabling Knight-Swift to accurately prioritize the network segments where this technology could deliver the most value and place reservations against this plan."
Each set of reservations was sized based on the unique needs of individual PDP partners, using a detailed network assessment to evaluate autonomous trucking needs. Embark and its partners analyzed billions of miles across millions of loads at the lane level to determine the incremental benefits that autonomous trucks can deliver across cost savings, speed, sustainability, and safety. By considering factors such as region of operation, lane length, frequency, and more, Embark and its partners were able to prioritize lanes that deliver an outsize benefit from conversion to automation and secure capacity for the Embark-equipped trucks necessary to fulfill this demand.
For example, automating a 600 mile run is expected to generate significantly more value than automating a similar 500 mile run. This is because a 500 mile run can be completed in 10 hours manually with a single driver, while a 600 mile run could take approximately 22 hours to complete manually assuming full compliance with the federal hours of service rules, which dictate a driver must take a 10 hour break after 11 hours of operation. As a result, the 600 mile autonomous run realizes cost savings, an estimated 10 hour reduction in delivery time, and sustainability gains by eliminating overnight idling and improving fuel efficiency due to closer adherence to speed limits. Nuanced considerations like this allow Embark to build highly-customized network conversion strategies that prioritize and sequence lanes based on a fleet's specific business objectives and the full range of benefits achievable using autonomous trucks.
In parallel, Embark has advanced its platform-agnostic Embark Universal Interface (EUI), a set of standardized self-driving components and flexible interfaces that enable integration of the Embark Driver with different OEM platforms. The PDP fleets placing reservations currently purchase trucks from all four of the major OEMs, including Freightliner, International, Peterbilt, and Volvo. With Embark's EUI approach, they will continue to be able to use trucks from any of these OEMs within their autonomous fleet, ensuring greater flexibility and control over their operations.
Earlier this year, Embark announced collaborations with NVIDIA, Cummins, and ZF, to enhance integration of the EUI and improve safety, fuel efficiency, and performance of the self-driving system.