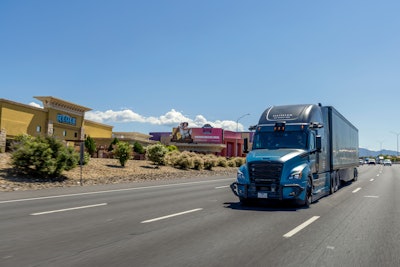 Torc Robotics and Daimler Truck are entering into the third year of their partnership focusing on the commercialization of a scalable Level 4 autonomous-capable truck.
Torc is currently testing the Level 4 trucks on public roads in Virginia, New Mexico, and Texas, with continued route expansion in the works.
Dr. Peter Vaughan Schmidt, head of Daimler Truck's Autonomous Technology Group, noted that the development of a safe autonomous level 4 truck "remains a complex task and resembles a marathon, not a sprint."
In its march toward driverless trucking, Torc CEO Michael Fleming said his company has honed in on one OEM truck platform (Freightliner's Cascadia), one business case (long-haul trucking), and one environment (U.S. interstate highways).
"Commercializing self-driving trucks is a very complex endeavor and we are first solving the least complex use case, then expanding our product reach as the technical capabilities are proven," he said. "I am absolutely convinced that Torc will be the first company to a profitable scalable product in the autonomous truck space. We move to the next level of complexity when we have proven our program."
Daimler and Torc formed a strategic alliance in August 2019 when Daimler invested in a majority share in Torc. Torc currently operates as an independent subsidiary and serves as the lead for autonomous system development, innovation, and testing with Daimler Truck's internal self-driving truck efforts.
In addition to testing in other regions, Torc manages a fully operational test facility in Albuquerque, N.M., running multiple routes and shifts each day. This past year, Torc expanded on-road testing in the Southwest into Texas. Additional routes are planned, strategically based on major freight haulage.
This past year, Daimler also announced a strategic partnership with Luminar for collaborative development of long-range, hi-fidelity lidar for autonomous trucking and Torc selected AWS as Torc's preferred cloud provider for data handling.