Trucking news and briefs for Friday, June 24, 2022:
Einride's driverless pod gets NHTSA approval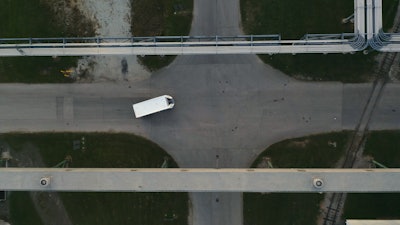 The National Highway Traffic Safety Administration (NHTSA) has approved freight technology company Einride's Autonomous Electric Transport (AET) vehicles for use on U.S. public roads.
The autonomous and electric Einride Pod does not have a driver on board and is instead remotely monitored by a Remote Pod Operator. Einride will begin a public road pilot to support operational flows for customer GE Appliances. A Remote Pod Operator will be remotely monitoring the vehicle at all times.
New England gets its first BEV certified Volvo, Mack dealer
Ballard Truck Center, a Mack and Volvo truck dealership Tewksbury, Massachusetts, has been designated a Certified Electric Vehicle (EV) Dealer and, equipped to service and support the Mack LR Electric –
Mack's first fully electric Class 8 refuse truck – and t
he Volvo VNR Electric.
Ballard Truck Center is the first Volvo and Mack's dealership to be EV-certified in New England.
Volvo Trucks North America President Peter Voorhoeve noted the dealership brings Massachusetts online as the eighth state to have one or more Volvo Trucks Certified EV Dealerships.
Ballard Truck Center offers 11 service bays, and upgraded one service bay that it dedicated to battery-electric trucks and trained three of its technicians to safely perform maintenance and repairs on EVs. The Tewksbury branch has 11 technicians, four of whom are master techs, and three of whom are EV-certified. The 31,000 square-foot branch has $1.5 million in parts inventory.
Ballard Truck Center, a fifth-generation family-owned business, was founded in 1906 as a blacksmith shop. Ballard Truck Center has five branches in Massachusetts – Tewksbury, Avon, West Springfield, West Wareham and Worcester, and also has a location in Johnston, Rhode Island.
Roadrunner adds new direct lanes, continues to slash transit time
Roadrunner (CCJ Top 250, No. 99) has added five additional direct lanes to its service network: Phoenix to Chicago, Detroit to Dallas, Indianapolis to Atlanta, St. Louis to Dallas and Cincinnati to Atlanta.
Investments in technology, training and service center improvements are resulting in faster delivery times and more direct lanes for its customers, the company said, adding it has improved transit times by at least one day in 66 of its major lanes.
"We've spent the last two years overhauling our network to make sure we only operate in lanes where we can provide service and quality," said Roadrunner President Frank Hurst. "As a result, we've seen our on-time service percentage increase dramatically across the network. This is the second time this year we've sped up our network and reduced transit times, and we're not stopping here."
Philip Thalheim, director of linehaul analytics, said Roadrunner runs faster than its stated transit times in more than 650 lanes – almost 20% of its 3,700 lanes.