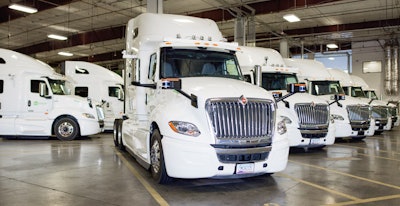 TuSimple and Navistar are ending their autonomous truck co-development partnership after just two years, the companies said in a joint announcement Monday. However, the decision to end the development agreement does not preclude the companies from working together in the future.
The two companies had planned to co-develop a Level 4 autonomous truck and enter production by 2024 prior to dissolving their relationship. Navistar Vice President Srinivas Gowda said the company continues to believe autonomous driving technologies will be a key component of a future transportation and logistics system, "and is committed to the development of a safe and efficient autonomous driving solution."
TuSimple has been embattled recently as CEO Xiaodi Hou was deposed in October and replaced by former CEO Cheng Lu, who previously led the company as CEO from September 2020 to March 2022.
Hou was fired after a report from the Wall Street Journal alleged TuSimple was being investigated by the FBI, the Securities and Exchange Commission and the Commission on Foreign Investment about its ties with Hydron, an autonomous startup founded by TuSimple co-founder Mo Chen earlier this year. A TuSimple filing with the SEC said it believed Hydron "has significant operations in China," and that a number of its employees spent paid hours working on matters for Hydron.
"I decided to return as TuSimple's CEO to address the challenges ahead and to set us on a path to long term stability," Cheng Lu said. "We have proven our technology works, and I'm committed to addressing the concerns of stakeholders. I firmly believe in this company and its ability to improve the safety and efficiency of the trucking industry through world-class autonomous driving technology."
Navistar in July 2020 took a minority stake in TuSimple, and two months later, Traton, the commercial truck arm of Volkswagen and Navistar parent, did the same. The companies will retain those ownership stakes.