Trucking news and briefs for Wednesday, Feb. 1, 2023:
FMCSA seeks feedback on integrating autonomous trucks
The Federal Motor Carrier Safety Administration is requesting public comment about factors the agency should consider in amending federal regulations to establish regulatory framework for autonomous trucks.
The agency previously published an advance notice of proposed rulemaking (ANPRM) in May 2019 seeking comments on FMCSRs that may need to be amended, revised or eliminated to facilitate the safe introduction of trucks equipped with automated driving systems (ADS) to the nation's highways.
A supplemental advance notice of proposed rulemaking (SANPRM) that will be published Wednesday, Feb. 1, seeks additional information on the topic. The original ANPRM sought answers to questions related to CDL requirements; hours of service; medical qualifications for drivers; inspection, repair and maintenance; and more as they related to autonomous trucks.
The new SANPRM asks questions about whether carriers should be required to notify FMCSA when operating Level 4 and Level 5 (the highest levels of automation) autonomous trucks; oversight of remote operating assistants for Level 4 autonomous trucks; and vehicle inspection and maintenance for Level 4 and Level 5 autonomous trucks.
Comments can be filed here through March 20.
[Related: DOT to seek public input on integrating autonomous cars and trucks into U.S. roadways]
ELD ONE revoked from FMCSA registry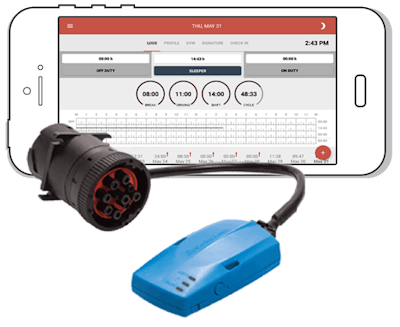 The Federal Motor Carrier Safety Administration has removed the ELD ONE device, provided by TMS ONE, from its Registered ELDs list because it fails to meet the minimum requirements for electronic logging devices.
It's unclear what specifically about the device does not meet the minimum requirements. Attempts by Overdrive to reach ELD ONE for clarification went unreturned. FMCSA's notice points to Appendix A of the ELD regs, which lays out the functional specifications ELDs are required to meet.
Drivers are required to stop using the revoked device and revert to paper logs or logging software to record required hours of service data. Drivers using the device have until April 1 to replace the revoked ELD with a registered device.
Carriers and drivers who continue to use the device beyond April 1 will be in violation of the "No record of duty status" regulation, and drivers could be placed out of service.
If ELD ONE corrects what caused it to fall out of compliance, FMCSA will place the device back on the list of registered devices. However, FMCSA strongly encourages motor carriers to stop using the device and replace it with a registered ELD to avoid compliance issues in the event that the device's deficiencies are not addressed in time.
The ELD ONE is the third device FMCSA has removed from the ELD registry for noncompliance. The ArionT ELD was revoked last summer, and the ELDorado ELD was removed from the list last fall.
Truck driver sentenced for Social Security fraud
Truck driver Dwayne Bent was sentenced to three years of probation and ordered to pay $201,693 in restitution for Social Security fraud. Bent pleaded guilty to the charges in September.
According to the Department of Transportation Office of Inspector General, in October 2014, Bent submitted an application for Social Security Administration (SSA) Disability Insurance Benefits (DIB) and was approved in January 2017 with a retroactive disability date of May 21, 2013.
From March 2017 through August 2019, Bent collected more than $200,000 in SSA DIB payments. During this time, Bent concealed from SSA that on DOT medical examinations in 2016 and 2018 he was deemed physically qualified to drive a commercial motor vehicle across state lines with no medical restrictions, in accordance with the physical qualification standards. Additionally, Bent concealed employment as a commercial motor vehicle driver from SSA, OIG said.
Freightliner expands service point locations with Love's partnership
Beginning this spring, select Love's Truck Care and Speedco locations across the U.S. will be able to provide light mechanical warranty repair work, roadside warranty emergency services, and approved field service and recall campaigns for Freightliner trucks as part of a partnership Daimler Truck North America (DTNA) and Love's Travel Stops announced on Tuesday.
With more than 400 Love's Truck Care and Speedco locations, sites approved for providing service offerings will work directly with local Freightliner dealers to ensure parts availability, repair quality and ease of warranty claim filing.
"With this complementary offering to our own service network, we will provide Freightliner customers the increased support and convenience they need to keep the world moving," said Drew Backeberg, senior vice president, aftermarket, DTNA.
More information about this partnership and service offering details will be available in spring 2023.
"We know that time is money for professional drivers, and we're excited to introduce a new service touch point to help get Freightliner drivers back on the road quickly," said Gary Price, executive vice president of total truck care solutions for Love's. "Working with DTNA and Freightliner dealers, we will have the systems in place to maximize uptime for our mutual customers."