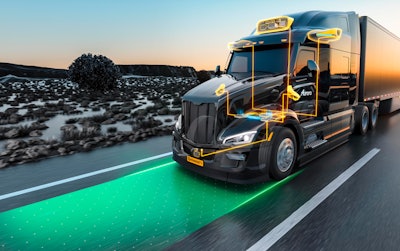 Continental and Aurora Innovation on Thursday announced the formation of an exclusive partnership to deliver the first commercially scalable generation of Aurora's flagship integrated hardware and software system, the Aurora Driver.
The organizations have agreed to jointly design, develop, validate, deliver and service the scalable autonomous system for the trucking industry. Continental will leverage its experience in systems development for safer, more reliable automotive solutions to industrialize the Aurora Driver and deliver the entire hardware set as well as a new fallback system. The fallback system is designed to ensure a driverless truck can continue the driving task until it reaches a safe position in the event of a failure of the primary autonomy system.
Continental will be responsible for the autonomous driving system kits which will leverage a wide spectrum of Continental's extensive automotive product portfolio from sensors, automated driving control units (ADCU), high performance computers (HPC), telematics units, and more, to the complete fallback system which covers the full chain of effects. Continental will integrate these hardware components into pods which will be supplied to Aurora's vehicle manufacturing partners, advancing the product offering for autonomous trucking customers. Additionally, Continental will manage the complete lifecycle of its supplied autonomous hardware kits for the Aurora Driver, from the manufacturing line to decommissioning.
The start of production is expected in 2027, following the expected launch of Aurora Horizon, Aurora's subscription trucking service underpinned by the Aurora Driver, next year.
"In this exclusive partnership, we bundle our systems competence with Aurora's industry-leading autonomous technology for our common goal to jointly realize the first commercially scalable autonomous trucking systems," said Continental CEO Nikolai Setzer, "a crucial step towards autonomous mobility."
Hardware-as-a-service
Continental and Aurora have also agreed on a hardware-as-a-service business relationship (based on mileage driven), to deliver safe, reliable, uptime-optimized and commercially scalable autonomous driving systems to customers through the Aurora Horizon platform. Aurora Horizon was developed to offer a safer, more reliable, predictable, and cost-efficient driver service to supplement human driver supply. Using this service, carriers and fleet operators, the companies say, will be able to better utilize the potential of their vehicle fleets, scale business on demand and help address today's driver shortage.
Continental and Aurora plan to provide this scalable solution to Aurora's vehicle manufacturing partners. Continental parts are expected to be produced and assembled in its newly built manufacturing facility in New Braunfels, Texas, as well as others across the company's global footprint.