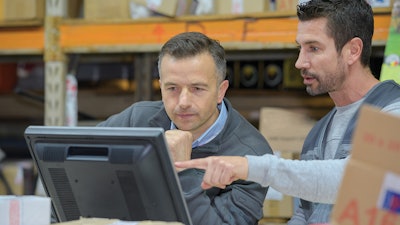 E-commerce sites for heavy-duty truck parts have gotten much slicker since they first began popping up on the internet. Their user interfaces are easier to use; they source a wider network of possible suppliers; and the sites often provide additional helpful information such as related parts or installation instructions.
In early March, Trucks, Parts, Service looked at how the parts shortage was affecting aftermarket service providers' ability to perform services on their customers' trucks. Looking for parts is time-consuming and oftentimes limits providers to their local areas. Industry e-commerce sites should be in the playbook of all parts and service providers when sourcing much needed truck parts.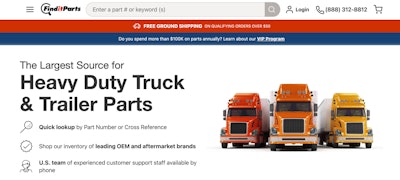 "When your normal sources don't have a part, you start calling other people — typically they're dealers in your area, so you're not seeing inventory outside of your geographic area," says David Olsen, executive vice president, FinditParts.
"If you think about any service provider specific to trucks, by our calculations, their counter/purchasing people are spending a minimum of 25 percent of their day trying to find a part they don't have. It's this whole antiquated daisy chain of phone calls," Olsen says.
FinditParts, like several other truck part sites, free up that time so staff can be tending to other important aspects of the business.
E-commerce advantages
The goal of Paccar Parts' e-commerce platform is to provide its dealer network with the easiest, most user-friendly e-commerce platform in the marketplace.
"That includes ensuring our dealers have great retail availability, making sure we have good availability in our distribution centers and that the e-commerce piece of this is making it extremely easy for end customers to find what they're looking for and getting it as soon as possible," says Joe Hutchins, director of e-commerce, Paccar Parts, which encompasses Kenworth, Peterbilt and TRP.
"A big feature for us is … our fleet integration capabilities so we can take our platform and integrate it directly with the fleet's procurement system. That's a real popular offering [because] everyone is looking to promote efficiency within their parts procurement operation," Hutchins says.
The site offers flexible and predictive searches, so as a customer begins to type in a search, after three characters, they get a drop-down menu with all the parts that contain those three characters, expediting the search process. This site also displays related parts and includes 360-degree images of the parts "so customers can look at the part they need and compare it to one that might be sitting on a counter in front of them," Hutchins says.
[RELATED: Ways aftermarket distributors can improve supply chain shortage issues]
The foundation of FinditParts' e-commerce platform is "our one-to-many approach to sourcing, which means for any given part, we have multiple suppliers," says Olsen.
For example, a FinditParts user is looking for a Cummins gasket, so the site checks the availability at 11 different suppliers. But the platform knows several companies offer a direct replacement part, which could add another 30 sources.
"In effect, when you're looking for this one Cummins gasket, you could be checking 44 different suppliers with the click of a button," Olsen says. "What we do is geolocate the customer and we geolocate the closest piece of inventory that matches his needs and that's who we buy from and that's where we ship it from."
Despite presenting myriad possible sources, Olsen says FinditParts is manufacturer specific. If customers are looking for a Cummins part, that's what they're going to get. Customers would have to choose an alternate version of the gasket to get an alternate brand.
FinditParts searches for parts from many different sources; however, the company doesn't allow just any company to onboard onto its site.
"We vet our suppliers to ensure they can operationally perform their commitments to the customers, have quality products, have good deep inventory and good digital content, which enables us to represent their products online the way they want them represented," Olsen says. "People need certainty when buying what they need."
Construction on Class8TruckParts.com began in 2008. Thousands of hours have gone into building the site because "it's extremely time-consuming to do it the right way," says Chad Remp, international and e-commerce sales manager.
"We offer customers the ability to buy thousands of parts at great prices. We have good, high-resolution images of the parts and great product details, which include vendor part numbers, including superseded and old part numbers," Remp says.
Like some other online parts resources, Class8TruckParts.com offers information on products related to what customers are looking for. If they're looking for a right headlight, the site will display product information for the left headlight or information on specific bulbs.
"We try to include as much product-related information for those parts to make sure anyone who is ordering from us is getting everything they need included with their order," he says.
In addition to being able to find and order parts, the site has a blog offering technical tips, schematics, troubleshooting information and, for some parts, installation instructions.
"We give as much information as possible to anyone browsing on the site to help them make an informed decision," Remp says.
Marketing the site
All the hi-res images, product information and other helpful features mean little if truck parts e-commerce sites can't be found by customers. One common denominator among these sites is an investment in search engine optimization (SEO).
Companies like Class8TruckParts.com and FinditParts invest in SEO to ensure their companies rank high in Google searches. But these companies don't stop there to market their sites.
"We have a complete Spanish version of the website. We're helping to service not just our English-speaking customers but also our Spanish-speaking customers in the U.S. and around the world," Remp says.
[RELATED: When parts shortages affect repairs]
Olsen says, "We're students of the industry. We participate in all the associations to help create the standards for part naming, such as ACES and PIES, that are going to help all participants in this industry better identify and find parts."
In addition to setting organizational goals to get more customers to use Paccar Parts' e-commerce platform, the company soon will be supporting the platform with "some pretty significant print and electronic promotions, with the audience being the end service provider," Hutchins says.
The parts shortage has wreaked havoc for parts and service providers in many ways. They can't immediately provide customers with the parts they need; it's time-consuming searching for hard-to-find parts; and the lack of parts is hindering service bays from getting customers' trucks back on the road.
It's important these providers look to online resources to get those parts — and to get them quickly.
"Normally 80 percent of what a fleet might need is available locally from somewhere. Today, that number is more like 60 to 65 percent, so all these parts that used to be readily available aren't so readily available anymore," Olsen says.