Freightliner
Super VHS, Super BETA, laser disc…these were relatively short-lived video platforms that were replaced quickly by DVDs in the 1990s.
While they were a nice improvement over the typical video resolution of 240 horizontal lines, they clearly lacked the sharper resolution, compact size and shelf-life of DVDs.
Such is life in the world of fast-evolving technology where even the most compelling-looking iPods can end up in the back of a junk drawer.
I have no problem with that. Life goes on and improves, mostly, as technology advances. But what if it's not an iPod or prized Super BETA that gets relegated to second-class status? What if it's a Class 8 electric truck?
Years ago, lithium batteries hit the market and made a big difference for picture taking (this was long before smartphones took over the camera world.) I was happy to pay a little extra and get those AA dynamos that not only outlasted alkaline batteries in my camera, but also they were lighter.
[Related: Fleets see electric trucks as driver retention tool]
We've also seen that in the auto industry. Professor John Frala, a longtime technician instructor in alt fuel courses at Rio Hondo College in Whittier, California, reminded me recently that the first electric truck went into service in 1896. Lead-acid batteries powered the truck.
As time passed, lead-acid remained a popular power source for EVs. Even Ford's electric Ford Ranger and Chevy's electric S-10 first used lead-acid when they rolled out in small numbers to fleets in the 1990s. Those mid-size trucks transitioned to more efficient nickel-metal hydride packs, which improved range but ultimately didn't save the zero-emission pickups from being yanked from production in the early 2000s.
It wasn't too long before lighter and more energy dense lithium-ion batteries began making their way into EVs with the 2008 Tesla Roadster, 2011 Nissan Leaf and 2011 Chevy Volt serving as more memorable examples.
Ongoing improvements in lithium-ion tech has led to longer-lasting, safer and more powerful packs. OEMs, which stand to improve their green profiles while cutting production costs with EVs that require far fewer parts than internal combustion, have felt emboldened enough about battery evolution to throw billions into EV and battery manufacturing for Class 1 – 8 commercial vehicles.
Fine enough. But when will current li-ion batteries be heading the way of VHS? It's an important question as better battery technology, namely solid-state, rolls into view.
Solid-state on the move
Solid-state battery technology has long been upheld as a holy grail in the battery world and for good reason. They offer roughly twice the energy density of conventional lithium-ion, are far lighter since they're virtually anode free, can charge faster and do not pose flammability concerns.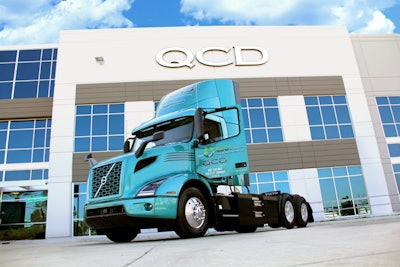 Ford, Toyota and Volkswagen have made headlines recently for pursuing the technology. Volkswagen partnered with California-based solid-state innovator QuantumScape and, according to Forbes, could have the new battery tech rolling out this decade.
Toyota, no stranger to vehicle electrification, told CCJ's sister publication, Hard Working Trucks, that they expect to have solid-state rolling out in a vehicle also by the mid 2020s. With their ongoing work in Class 8 electrification with Kenworth, a fuel cell truck supported by solid-state promises more range.
[Related: Zero-emission timeline complicates fleet buying decisions]
Ford, like other OEMs, has invested heavily in electric vehicles and the batteries that support them. Their solid-state development plans include a partnership with battery innovator Solid Power in Texas.
"Solid-state batteries are showing great promise," Ford announced last month in a press release. "They don't use the liquid electrolyte found in conventional lithium-ion batteries, can be lighter, with greater energy density and provide more range and lower cost. They also can be made on today's lithium-ion battery lines, allowing Ford to reuse about 70% of its capital investment in lithium-ion manufacturing lines."
Should fleets wait for solid-state?
New battery technology like solid-state sounds promising especially for large commercial vehicles that need all the power they can get to haul large loads.
But does that mean fleets should hold off on acquiring electric trucks and vans until solid-state or some other improved battery technology rolls into view?
"No we should not wait," said Mike Roeth, executive director of the North American Council for Freight Efficiency (NACFE).
The topic of EV batteries is a familiar one for Roeth and others at NACFE where they've been busy hosting a series of informative webinars on all-electric trucks. (If you haven't already, sign up for Run on Less Electric Bootcamp #6: Maintenance, Training & Safety which is coming up June 29).
"Li-on batteries are good enough across cost, weight, durability and performance to begin this transformation of trucking to zero emissions in many use cases, or often called duty cycles," Roeth continued. "There are many things to figure out and the industry should not wait for better batteries. Of course as they are developed, new batteries can be introduced into production vehicles where they make sense."
[Related: Zero-emission trucks are coming 'one way or another']
iSeeCars Executive Analyst Karl Brauer, who's been keeping a close eye on solid-state, raised the valid point of higher upfront costs typical with new technology.
"The promise of solid-state batteries, and their advantages, is compelling," Brauer said. "But we're still early in the development stage and we're likely looking at a few years of validating their capabilities and durability. Plus, the cost of solid-state batteries, at least initially, could be substantially higher than lithium-ion."
As Roeth pointed out, many use cases will be well-suited to li-on batteries. Others, like more demanding regional or even long-haul segments, may want to hold off if they can.
Unfortunately, transitioning to solid-state and other improved battery technologies may not come so easily. While most of us have grown accustomed to swapping out AA batteries in small devices, such an approach with EVs can quickly prove complicated and costly.
[Related: Fleets prepare for arrival of electric trucks in 2022]
With Ford on the fast-track with battery development, including using the world's first SK Innovation-produced Nickel 9 battery in F-150 Lightning, I reached out to see if Lightning was being developed to accommodate more improved batteries in the future.
"Ford Lightning is designed with advanced Li-Ion batteries to meet customer needs," said Dapo Adewusi, vehicle engineering manager at Ford. "As new battery developments occur, solid-state or otherwise, the product development team will evaluate how and when to best incorporate. We do not have a plan for a solid-state battery swap on Ford Lighting."
But it's not only the question of upgrading a conventional li-ion powered EV to solid-state that needs to be considered, it's also charger compatibility. After all, the last thing any fleet wants is to be left behind with costly, obsolete technology as the competition forges ahead with more zero-emission power and bigger loads.