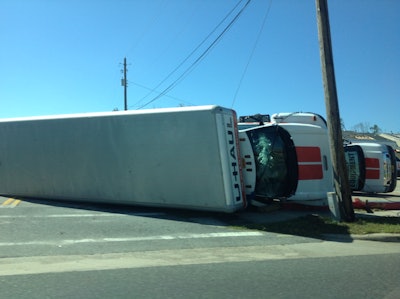 Tom Quimby
I was driving on the packed streets of Long Beach, California, heading to the Advanced Clean Transportation Expo when KNX News reported a tough story over the radio: California was going to be hit with a big power shortage this summer.
How big? Roughly the equivalent of losing one power plant, or 1,700 megawatts of power. Water levels have dropped so low in an ongoing drought that hydropower is losing critical water volume needed to turn massive turbines.
Other tough factors are emerging. The Sacramento Bee reported that sweltering heat and wildfires also "pose threats to the fragile power grid."
Hey! Sounds like a great time to saturate the state with megawatt hungry electric trucks.
Sorry kids. The lawn's been turned into prickly cacti and jagged rocks and your mother's beloved flat iron has been banned but the electric trucks are running in Long Beach. Who's up for a cheer?!
Climate change is being blamed for tough weather, which can trigger power losses. But in a tortuous paradox of sorts the cure for climate change advocated by influential alt fuel proponents is to eliminate internal combustion and roll out more all-electric vehicles. (Geez…I smell a Chinatown redux a la electric truck proponents versus the flat iron society, Xbox warriors or other such groups that desperately need the grid up and running. Okay, I need it too for my ancient and amazing plasma big screen.)
Seriously, how often do you hear media pundits, politicians or even OEMs advocating for any other clean powertrain solutions besides all-electric? It's actually pretty rare.
I first became aware of the great green disparity about six years ago at ACT Expo when natural gas advocates made it known how upset they were with funding in California being mostly marked for all-electrics.
You may recall a few years back when then-presidential candidate Joe Biden kept leading the charge for EV proliferation and a massive charger rollout. It was crickets for other emissions fighting fuels like hydrogen, natural gas, propane, renewable diesel and biodiesel.
While President Biden's rhetoric and alt fuel test drives still remain largely centered around all-electric, it's worth noting that hydrogen fueling infrastructure got a big federal boost late last year. Feeling the love, Cummins rolled out their new 15-liter hydrogen engine at ACT last week with a 2027 production date.
"We're encouraged by the infrastructure bill that the senate passed last year that put 8 to 9 billion towards hydrogen hubs and green hydrogen," Cummins general manager of hydrogen engine business Jim Nebergall told me. "That's really going to help accelerate infrastructure across the nation and because of the focus on green hydrogen and the need for it, the cost is going to come out really favorably."
Green hydrogen is produced through electrolysis, a process that relies on electricity to produce hydrogen from water. When powered by renewable energy like wind, solar or hydropower, the fuel's well-to-wheels carbon intensity score drops considerably even below electric.
Cummins is, of course, continuing its work on fuel cell development and brought along its fuel cell Kenworth T680 to ACT. It's also no secret that Cummins CEO Tom Linebarger has said that he believes fuel cell will prove to be an ideal fit for zero-emission long haul.
But along the way, there are other solutions that can sharply reduce emissions while still providing the capability and time-saving efficiency that Class 8 demands. Enter hydrogen internal combustion. Cummins is not the only manufacturer working on this. As CCJ Chief Editor Jason Cannon reported recently, Westport has also been busy in this space with its hydrogen HPDI fuel system. Read more about that here.
I think what really stands out most during my talk with Nebergall was his point about the importance of having access to a variety of clean powertrain solutions.
Most everyone on the planet can recall the terrible and deadly ordeal millions of Texans found themselves up against during severe energy outages in early 2021. The grid in the second most populated state in the nation was brought to its knees. Severe winter storms were to blame.
Nature has and will continue to wipe out power systems elsewhere. In 2018, I was personally reminded of the fragility of energy systems and the need for a variety of powertrain fuels. Besides mangling so many businesses, churches, schools and homes, including our own, category five Hurricane Michael devastated the grid here. The Teslas, Nissan Leafs and Chevy Volts that the kids and I had been seeing more of, were now nowhere to be seen because the grid was blown away. Even diesel fuel became scarce thanks to an order from Uncle Sam that made the fuel available for government use only. Losing power for two weeks really reminds you not only how quickly life can change but also how dependent we are on electricity and various fuels for internal combustion including our generators.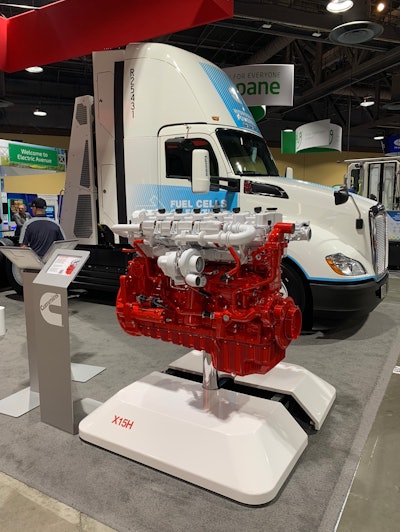 Despite the setbacks, we all made adjustments, helped each other out a lot and pushed forward — once again — as a storm-weary community. And there were plenty of lessons left behind. One big one for me is the importance of fuel diversity.
With diesel being sequestered, we had to travel outside of town roughly 45 minutes to fuel up. Law enforcement monitored long lines to help keep tempers in check.
Thankfully, not everyone had to make that long trip. Waste Management leaned on compressed natural gas at a local station in Panama City. A driver there told me that while their diesel trucks had been grounded for lack of fuel, they could still run quite a few trucks on CNG. That came as a nice surprise at a time knowing that even though Panama City and neighboring cities — especially Mexico Beach — had been trashed, you could still count on Waste Management in places to collect the trash. (Keep in mind that several roads were impassible for a while thanks to fallen trees, power lines, collapsed structures, etc.)
But now it's not just nature we have to be concerned about when it comes to interrupting our fuel supplies, it's also supply chain challenges as Nebergall reminded me.
"If you think about the supply chain issues that we've had globally and for other reasons, having engines in parallel with other technologies, it adds choice to even the commercial powertrain industry," Nebergall said. "If we put all of our eggs in one basket and we have cobalt issues or some other precious metal you bring the whole world to a halt. And so we need to have options and having low carbon, zero carbon engines can help provide that balance of supply and competition and just let the best technology win."
Nebergall is so right. The prices of critical elements used in EV battery production like lithium, cobalt and nickel have not only doubled over the past year, their availability and sourcing has also raised concerns. You may recall Tesla CEO Elon Musk taking to Twitter to ask folks to get involved in lithium mining.
Currently, China leads the world in lithium consumption largely through the world's largest EV manufacturer BYD which is headquartered in Shenzhen, China. Musk's involvement with the Chinese, which includes a Tesla manufacturing plant in Shanghai, has apparently not helped enough in his eager pursuit for lithium which he and other EV manufacturers must have for battery production.
Really, at a time when geopolitical tensions continue to crank up and call international relationships into question, suddenly hydrogen, the world's most abundant element, doesn't look so bad.
While I'm not so sure where Musk stands on hydrogen engines, he's made it repeatedly clear what he thinks of fuel cells with memorable descriptions like "mind boggingly stupid" and "extremely silly."
Of course, that was a few years before the lithium hit the fan. And Musk could very well change his mind. After all, this is the same guy who once dubbed himself a socialist on Twitter and this week announced that he'll be voting Republican. It really doesn't come as a big surprise. All power structures, in terms of politics and energy systems, can change in a heartbeat.