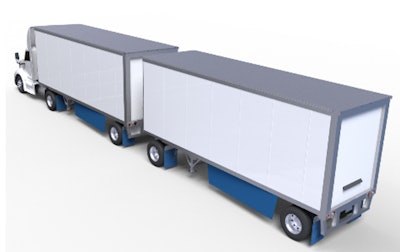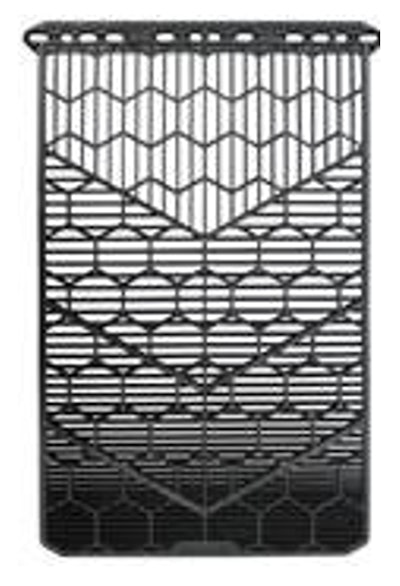 Michelin unveiled Sunday at the Technology & Maintenance Council Annual Meeting and Expo in Orlando its Guard Lite Skirt Kit, a new patented integrated rib cover that allows for easy installation with only three brackets compared with the standard four to five brackets.
The top fairing is compatible with all trailer configurations and fits flush to the edge as to not interfere or cause damage while docking. It also offers up to 66% higher ground clearance (15 inches vs. 9 inches) and lighter weight to maximize load capacity.
An integrated stiffener, which allows for the use of only three Generation-2 brackets, reduces weight and installation time. The modular solution fits almost all trailer sizes from 28-foot pup trailers to 53-foot long box trailers.
The Guard Lite Skirt Kit – the only SmartWay Certified kit under 19-foot – joins Michelin's Energy Guard lineup, which includes trailer skirt, end fairings, newly designed mud flaps and wake reducers. Karen Schwartz, Vice President of Marketing for Michelin North America, said she expects it to reduce overall operational costs, saving up to 7.2 gallons for every 1,000 miles driven when paired a 53-foot box trailer.
Alongside the new skirt, Michelin debuted its second-generation Energy Guard Mud Flaps, which it said were re-designed through advanced research and development to further reduce vehicle drag. The low-flex and anti-sail design helps keep Energy Flaps straight while the vehicle is in motion and features patented hole patterns and extensions for correct placement without drilling new holes in standard mud flap hangers.
A new progressive louvered design helps reduce vehicle drag and optimizes louver spacing for high air pass-through. They are also designed to deflect road spray and debris downward, as well as enable better side-view visibility for truck drivers and improved visibility and safety for drivers of surrounding vehicles.
Weighing in at 7 pounds per pair and available in sizes 18"Wx30"L, 24"x24," 24"x30" and 24"x28", the the Gen 2 flap is made with up to 80% recycled materials and can withstand operating temperatures from -40°F to 212°F, Schwartz said.
Energy Guard Mud Flaps will be standard fitment for all of Utility Trailer Manufacturing's refrigerated trailers beginning later this year, and will be available to Utility's dry van customers.
Michelin X Line Energy Z+ tire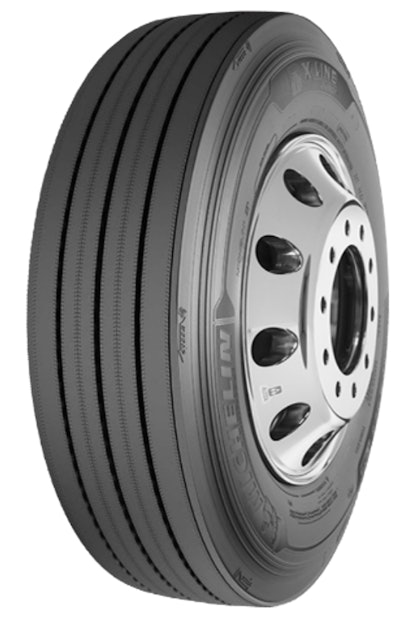 Also Sunday the world was introduced to the Michelin X Line Energy Z+ tire – the newest addition to the X Line Energy Z line and its its lowest rolling-resistance long-haul steer tire. The new tire will not replace the X Line Energy Z, Schwartz said, rather "it is an additional offer for those long-haul fleets that value optimal fuel efficiency leading to improved total cost of ownership."
The new tire uses both Infinicoil (a continuous steel wire, up to a quarter mile in length, that is wrapped around the tire circumference to make it more stable and durable throughout its service life) and Regenion (metal 3D printing techniques that enable the tread design to evolve over time as it wears, giving drivers the grip they need over the service life of the tire in all conditions) sculpture technology.
Regenion features in the 18/32" deep tread design of the X Line Energy Z+ tire, and an evolving tread design that allows additional tread grooves to develop at lower tread depths, Schwartz said. "This gives a cost-competitive advantage to owners as the tire performance will be enhanced, allowing for longer use, less irregular wear and new-tire-like traction throughout the tread life," she added.
Expected to launch in the third quarter of 2023, the Energy Z+ will be offered only in 295/75R22.5 LRH.