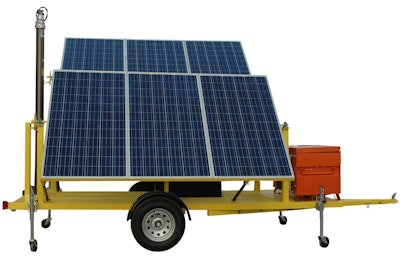 Larson Electronics now offers an optional Solar Powered Generator for its Pneumatic Light Tower Mast. The solar light tower includes six solar panels, a solar charging system, a battery bank and a pneumatic mast mounted on a trailer with outriggers and a removable tongue.
The 1.8-kilowatt solar generator system replenishes 200 amp hours of usable battery capacity per day and delivers 24 volts for lighting, cameras, sensors or other electronic equipment mounted atop a 30-foot collapsible pneumatic mast.
Larson also offers an explosion-proof 4-foot 4-lamp LED light fixture approved for paint spray booths and designed to provide improved output and durability for areas where flammable petrochemical vapors and pulverized dust exist. For more information, go to www.magnalight.com.