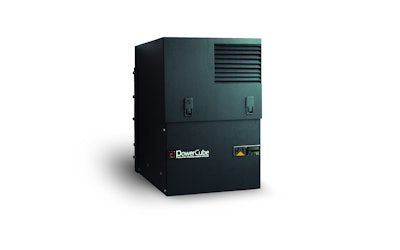 Perrin Manufacturing's Power Slim APU is a more compact version of its PowerCube APU and is built to fit the mounting space requirements of most sleeper cabs. The APU delivers 24,000 BTUs of AC cooling strength and 30,000 BTUs of heating power and is designed for quiet operation.
The unit uses a two-cylinder Caterpillar CO.5i diesel power plant and has an integrated condenser. Units come with mounting hardware, a wire harness system, an integrated muffler, a fuel pickup apparatus, an under-bunk HVAC unit, flexible ductwork and a handheld digital temperature control unit.
The device is available in custom colors to match cab bodies and also can be fully finished in chrome. Also available is the PowerCube APU model HC5128 offered by Tridako Energy Systems and Nebraska Machinery Co. For more information, go to www.perrinmfg.com.