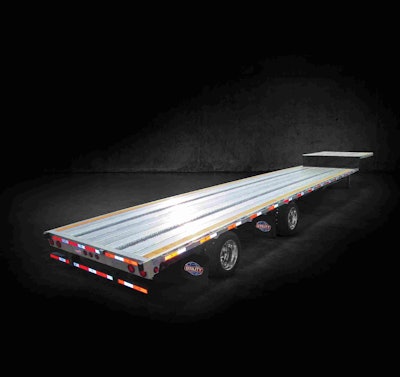 Utility Trailer Manufacturing Co. introduced its new strong lightweight 4000AE Drop Deck flatbed trailer.
"Our new 4000AE Drop Deck incorporates the advanced technology that is found in our 4000AE combo flatbed, delivering the long-term benefits of both steel and aluminum," said Brett Olsen, Utility marketing manager. "A customer will discover that it weighs less than some all-aluminum trailers, yet it's available at a more sensible combo-trailer price."
Designed to haul heavy or awkward loads, the 4000AE Drop Deck features a combination of 3- and 4-inch aluminum crossmembers. It comes standard with a 39,000-pound coil haul package with a 5-foot span of 4 inches tapered to 3-inch aluminum crossmembers on 8-inch centerlines.
The 4000AE Drop Deck also features the ConMet aluminum hub system and delivers an additional 541 pounds of weight savings compared to the previous design.