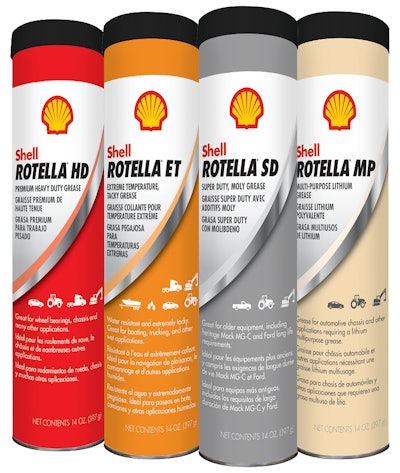 Shell Rotella has introduced a line of heavy-duty greases for trucks, tractors and construction equipment.
Shell Rotella HD Grease is a premium multi-purpose grease for on and off-road vehicle applications with the versatility for industrial equipment use. It contains the company's latest performance additives formulated to provide excellent high-temperature oxidation performance, corrosion resistance and extreme-pressure and anti-wear protection. The grease is suitable for bearings operating at high temperatures and under load such as disc-brake-equipped wheel bearings.
Shell Rotella SD Grease is a high-performance high-temperature grease for vehicle and equipment lubrication. Formulated with moly solid lubricant (molybdenum disulfide), the grease is designed for lubrication of vehicles and equipment in demanding applications that are subjected to high shock loads where rapid starts and stops may occur, impacting chassis points, sliding pins, trailer hitches and axle splines.
Shell Rotella MP Grease is designed for multipurpose lubrication of on- and off-road vehicles and equipment for general chassis, springs, pivot points, low-speed bearings (not disc-brake wheel bearings) and equipment such as mowers, trailers, lifts and loader buckets. The multipurpose extreme-pressure grease is based on a blend of high-viscosity index mineral oils and a lithium hydroxystreate soap thickener that contains extreme-pressure and other additives formulated to enhance performance in a wide range of applications.
Shell Rotella ET Grease is designed for the lubrication of most on- and off-road vehicles and equipment. The lithium-complex grease is based on high-viscosity mineral oils and polymers to facilitate improved adhesion and retention on exposed surfaces such as fifth-wheel plate pivots, wheel bearings, springs, trailers, open pivot joints and weather-exposed equipment. The grease is extremely tacky, water-resistant and suitable for high temperatures. It contains antioxidants and extreme-pressure and wear-preventive additives, as well as rust inhibitors for added service life and corrosion protection.
Shell Rotella, www.rotella.shell.com