Trucking news and briefs for Thursday, April 8, 2021:
Trucking co. owner pleads guilty for role in two fraud schemes
Draper, Utah-based trucking company owner Hubert Ivan Ugarte pleaded guilty recently for his role in two separate fraud schemes, according to the Internal Revenue Service.
Ugarte first pleaded guilty to charges related to a federal bribery case involving the procurement of FedEx Ground contracts worth $24 million of profit. He also pleaded guilty to fraudulently obtaining a federal Paycheck Protection Program (PPP) loan for other trucking companies.
In the bribery case, Ugarte was convicted of fraud and money laundering charges for his involvement in a pay-to-play trucking scheme where prosecutors alleged that Ugarte was one of 10 defendants who paid approximately $1 million in bribes to the Utah FedEx Ground hub manager to exploit his position and improve their own businesses.
In the plea agreement, Ugarte admitted to bribing the FedEx Ground senior linehaul manager, Ryan Lee Mower, with approximately $490,000, which netted his trucking companies more than $24 million over a seven-year period between 2012 and 2019. In exchange for the bribe payments, Mower awarded Ugarte's companies with several routes from FedEx Ground that Ugarte would not have qualified for under FedEx's established policies.
In the second case involving PPP loan fraud, IRS says Ugarte pleaded guilty to submitting a fraudulent loan application to the Small Business Administration through the Coronavirus Aid, Relief, and Economic Security (CARES) Act. Ugarte admitted that he fraudulently obtained $210,000 in PPP loans after failing to disclose that he was under federal indictment for his role in the fraudulent trucking scheme.
Sentencing is set for June 3,2021, in both matters.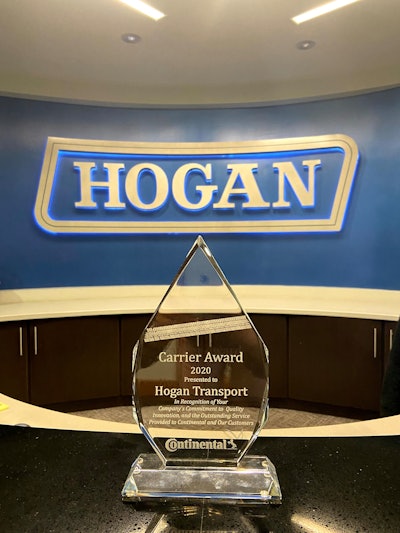 Fleet honored by Continental Tire
Hogan Transports (CCJ Top 250, No. 66) received Continental Tire's 2020 Carrier Award, recognizing Hogan's commitment to Continental and its customers.
"We are honored to accept Continental Tire's 2020 Carrier Award," said Hogan Dedicated Services COO Todd Holt. "This recognition further highlights Hogan's commitment to not only our clients, but to their customers as well. For over 100 years, we have strived to exceed our clients' expectations in transporting their goods nationwide. This award showcases not only Hogan's ability to fulfill commitments but our dedication to those who entrust us to deliver their livelihood as well."