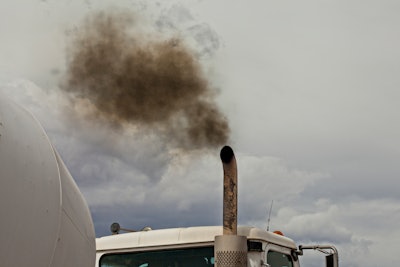 It was pretty clear to see, even for an auto analyst who owns an electric car. Class 8 trucks with advanced diesel technologies have been beating out electric powertrains in terms of sparing the planet and people from emissions.
Not only that, but they've been saving fleets billions of dollars in fuel.
"There's been about a 98% reduction in both NOx and particulate matter since 1988, which is a pre-regulation time period," Casey Selecman, director of powertrain forecasts at AutoForecastSolutions, explained Wednesday during a Diesel Technology Forum webinar revealing emissions and fuel efficiency gains that the country's workhorses have been making thanks to ongoing improvements in engine efficiencies.
[Related: Zero-emission timeline complicates fleet buying decisions]
One of the biggest diesel advances, selective catalytic reduction (SCR), helped pave the way for a carbon dioxide reduction of 202 million tonnes for model year 2007 to 2020 Class 3 – 8 commercial vehicles, according to research findings released today by the Diesel Technology Forum.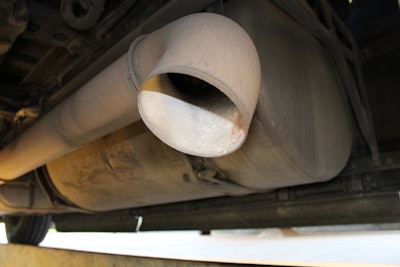 The savings don't stop there. Roughly 27 million tonnes of NOx were eliminated by those same vehicles. Diesel fuel consumption dropped by 19.8 billion gallons and crude oil use decreased by 472 million barrels thanks to additional diesel tech advancements.
Once the well-to-wheels measure of energy efficiency was applied, the math kept working mostly in favor of diesel.
"Electrons don't come from nothing," Selecman explained. "They come through a fuel. Sometimes that fuel is hydro [electric power] where the amount of CO2 is very low. And sometimes it's coal where the amount is relatively high."
Some markets that have access to hydroelectric power, such as those in the Northeast and California, can enjoy electricity with a low carbon score that's roughly the same as renewable diesel made from used cooking oil. It's enough to turn an EV owner like Selecman into a diesel believer — at least as far as the latest medium and heavy-duty trucks are concerned.
"We see that there's a lot more savings for B20, or for renewable diesel, than what we are going to get from an EV strategy," Selecman said. "EV technology is great. I mean, I own an EV light vehicle, but really, there's not a whole lot of options in a Class 8 truck market."
Powered by clean diesel
Nearly half of the Class 3 – 8 commercial vehicles on the road today are model year 2011 and newer with advanced, near-zero emissions diesel technology, Diesel Technology Forum Executive Director Allen Schaeffer explained during the hour-long webinar.
"That's a 6% increase from 2019 through the most recent study period in 2020," Schaeffer added. "That means that about a half a million of these new technology, clean diesel trucks went on the roads last year.
"This is an important development," Schaeffer continued, "and when we look at the largest vehicles, we find that the percentage is even higher. Ninety-seven percent of Class 8 big rigs are powered by diesel, of course, and looking at the penetration of the newest generation vehicles, we find that 50% of these largest trucks are in fact of the newest generation diesel technology now on the road."
[Related: Diesel cylinder deactivation reduces NOx by 74%]
Since 2011, all new heavy-duty trucks have been equipped with SCR systems that when paired with particulate control technologies have achieved NOx emissions of no more than .20 grams per brake horsepower hour (g/BHP-hr) and particulate emissions levels of no more than .01 g/BHP-hr.
In addition to reducing emissions, trucks with the latest diesel technologies provide fleets with fuel savings over older models.
"We're looking at a significant fuel savings per year," Selecman said.
Compared to a truck bought new in the mid-2000s, "a vehicle today is saving about $8,000 a year in fuel over an older generation vehicle," Selecman said. "We're also looking at about 30 tons of CO2 per year saved over previous technology."
While efficiency gains are being made in larger commercial EVs and the power plants that fuel them — which both Selecman and Schaefer believe will drive bigger adoption rates — fleets can more quickly turn to diesel biofuels which provide instant emissions gains without having to take on costly vehicles and infrastructure.
"There's a few markets where electricity looks a little bit better, but these [bio]fuels can be applied to all vehicles, even the ones that are already in operation that have already been sold and don't require massive changes to the commercial vehicle powertrain package," Selecman said.