Trucking news and briefs for Friday Jan. 7, 2022: 
SCOTUS will hear oral arguments over vax mandate
The U.S. Supreme Court is expected to hold a special session today to hear oral arguments regarding President Joe Biden's COVID-19 vaccine mandate for private employers with 100 or more employees.
The mandate, requires coronavirus vaccines or mandatory weekly testing for the unvaccinated, has faced multiple legal challenges since it was announced in October. Opinions in the lower courts to-date have been mixed, with the Fifth and Sixth Circuits issuing conflicting rulings. The mandate has been on hold since Nov. 6, when the Fifth Circuit Court of Appeals granted an emergency motion to temporarily stay the Occupational Safety and Health Administration's rule's enforcement.  
The Sixth Circuit Court of Appeals in Cincinnati ruled Dec. 17 that, contrary to the Fifth Circuit's opinion, Occupational Safety and Health Administration (OSHA) does have the authority to require such a mandate. The court cited provisions in the Occupational Safety and Health Act that established OSHA that reinforce OSHA's authority to regulate infectious diseases and viruses. The Sixth Circuit's ruling remains in place until SCOTUS acts, whenever that may be.
Among those opposing the mandate are the American Trucking Associations, 27 state attorneys general and governors, various business and organizations. 
Given the legal wrangling that lies ahead, OSHA said it will not cite companies with failure to comply with vaccination requirements until Jan. 10, 2022, or non-compliance with COVID testing before Feb. 9.
Saia inks deal for 100 Nikola battery electric trucks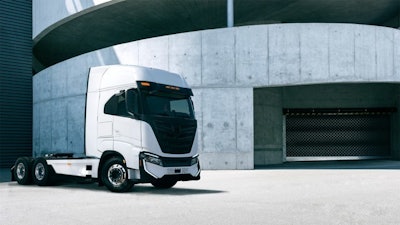 Less-than-truckload carrier Saia (
CCJ
Top 250
, No. 20) has signed a Letter of Intent (LOI) to purchase or lease 100 Nikola Tre heavy-duty battery electric vehicles (BEVs) following the satisfactory completion of a demonstration program, which will include three BEV trucks to be operated in separate locations across the Saia network and is expected to begin in the coming months. 
Deliveries of 100 production vehicles are intended to occur between 2022 and 2024 with the initial 25 targeted for 2022. 
Earlier this week, USA Truck (No. 68) entered into a Letter of Intent (LOI) for an initial purchase of 10 Nikola Tre BEV trucks from Thompson Truck Centers, a member of the Nikola Corporation sales and service dealer network.
Mesilla Valley celebrates 40th anniversary
Mesilla Valley Transportation (CCJ Top 250, No. 71) is celebrating its 40th anniversary on Jan. 9, which marks 40 years since Royal Jones and Jimmy Ray founded MVT.
In 1982, MVT had only one location, a mobile home where pieces of cardboard separated the living space and office. Their fleet of two trucks was maintained outside on a dirt lot. The original employees each had many roles spanning multiple departments. The company is now one of the largest privately owned employers in Las Cruces, New Mexico, and El Paso, Texas. 
Today MVT's fleet consists of six terminals, 1,600 trucks, more than 5,600 trailers, and 2,000 employees. 
"We pride ourselves on our people. We have the best employees," said Royal Jones, President & CEO of MVT. "Everything we do is based on the people who work at MVT. I am frequently asked how MVT grew to where it is today, and the answer is simple, it has grown because of the people I have been surrounded by for the last 40 years." 
Mesilla Valley Transportation is celebrating the anniversary by giving back to its employees by giving away $40,000 each month of 2022. The monthly $40,000 will be divided into $5,000 cash prizes awarded to eight employees. All employees, staff and drivers, are automatically entered into the drawing after completing 30 days of consecutive employment.