Trucking news and briefs for Thursday, Jan. 20, 2022:
FMCSA shuts down Florida-based carrier following fatal crash, 'egregious' safety violations
A West Palm Beach, Florida-based trucking company has been effectively shut down by the Federal Motor Carrier Safety Administration following a fatal crash and subsequent safety investigation. Professional Marine Hauler's LLC was served a federal Imminent Hazard Operations Out-of-Service Order on Jan. 14.
On Nov. 9, 2021, the two-truck fleet was involved in a crash resulting in two deaths and nine injuries. FMCSA's subsequent investigation found "egregious levels of non-compliance and a complete failure of the carrier and its owners to implement any aspect of a safety management plan," FMCSA said in a press release.
The agency said the failure resulted in the fatal crash, which was caused by a complete trailer brake system failure.
"The agency's compliance investigation found Professional Marine Hauler's and its principals, Claudia Angelique Abreu and Ariel Martinez, operating CMVs with a total disregard for safety," FMCSA added. "A pattern of non-compliance was noted in the operation of several motor carriers operated by the carrier principals, including violations documented during roadside inspections and failed new entrant safety audits."
According to FMCSA, Abreu and Martinez continued to operate equipment after it had been placed out-of-service.
The two company principals showed a total disregard for vehicle maintenance, driver qualifications, controlled substances and alcohol testing, hours of service and oversize/overweight limits for CMVs, according to FMCSA.
Other companies the Abreu and Martinez were connected with also affected by the order include A&M Marina Service Corp., A&W Tow & Transport Inc., Los Guerreros C Towing, and Jam Transportation Towing and Moving Corp.
Truck tonnage increased to close out 2021
The American Trucking Associations' advanced seasonally adjusted (SA) For-Hire Truck Tonnage Index increased 1% in December after rising 0.5% in November. In December, the index equaled 114.7 compared with 113.5 in November.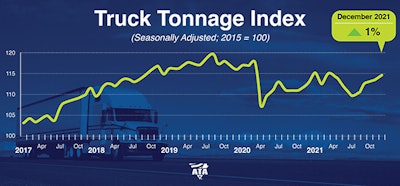 "December's gain was the fifth straight totaling 4.4%," said ATA Chief Economist Bob Costello. "In December, tonnage reached the highest level since March, but it was still 2.7% below the pre-pandemic high. This is likely due to the fact ATA's data is dominated by contract freight. Contractor truckload carriers operated fewer trucks in 2021 compared with 2020 and it is difficult to haul significantly more tonnage with fewer trucks. But overall, we have seen a nice trend up that is reflective of a still growing goods-economy."
Compared with December 2020, the SA index rose 1.4%, which was the fourth straight year-over-year gain. In November, the index was up 1.6% from a year earlier. In 2021, compared with the average in 2020, tonnage was up 0.3%. In 2020, tonnage was off 4% compared with 2019.
The not seasonally adjusted index, which represents the change in tonnage actually hauled by the fleets before any seasonal adjustment, equaled 113.9 in December, 0.2% above the November level (113.8).
In calculating the index, 100 represents 2015. ATA's For-Hire Truck Tonnage Index is dominated by contract freight as opposed to spot market freight.
ATA names 2022-2023 America's Road Team Captains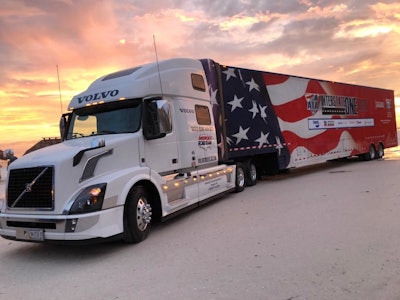 The American Trucking Associations on Wednesday named 22 truck drivers the 2022-2023 America's Road Team Captains, who will serve as trucking industry ambassadors, spreading the message of safe driving and teaching about the industry and its opportunities.
Captains, with support from their companies, dedicate a few days each month to attend industry events, speak at schools, or meet policymakers on behalf of the trucking industry. The new Captains will tour the country in ATA's Interstate One Image Truck, an American flag emblazoned with a brand new 2021 Volvo VNL 760, featuring a state-of-the-art truck driving simulator and mobile classroom.
This year's class includes drivers from 13 companies, 17 states and drivers with more than 564 years of experience and 45,774,455 miles of accident-free driving.
The new America's Road Team Captains are:
Michael Buck, Yellow (No. 5), Moore, Oklahoma
Teddy Butler, ABF Freight System, Hampton, Georgia
Kevin Byrnes, United Parcel Service (No. 2), Sparta, New Jersey
Jesus Davila, Werner Enterprises (No. 13), San Antonio, Texas
Ken Duncan, Walmart Transportation, Gorham, Maine
James Ellis, Grammer Logistics, Erwin, North Carolina
Lalo Fernandez, FedEx Freight (No. 1), Battle Ground, Oregon
Richard Frazer, Yellow, Rockford, Illinois
Charlie Fuller, FedEx Freight, Pembroke Pines, Florida
Ritch Fundell, FedEx Freight, Tonica, Illinois
Salvador Gonzalez, TForce Freight (No. 7), Ocala, Florida
Darrien Henderson, J&M Tank Lines Inc. (No. 217), Mobile, Alabama
Gina Jones, Werner Enterprises, Peoria, Arizona
Dean Key, Ruan Transportation Management Systems (No. 32), Primghar, Iowa
Glen Allen Kirk, Old Dominion Freight Line (No. 10), Franklin, Indiana
Jeff Rose, Yellow, Creston, Ohio
Ron Round, Pottle's Transportation LLC, Enfield, Maine
David Schroeder, FedEx Freight, Bellaire, Ohio
Eric Stein, Werner Enterprises Inc., Canajoharie, New York
PJ Singh, Penske Logistics (No. 12), Stockton, California
Derrick Thorpe, TForce Freight, Rahway, New Jersey