Trucking news and briefs for Monday, March 7, 2022:
FMCSA modifies regs to expand windshield area for safety tech
In a final rule published in the Federal Register Monday, March 7, the Federal Motor Carrier Safety Administration is updating its regulations to expand the area on windshields where certain safety technologies can be mounted.
The Federal Motor Carrier Safety Regulations (FMCSRs) currently require devices with vehicle safety technologies to be mounted not more than 4 inches below the upper edge of the area swept by the windshield wipers, or not more than 7 inches above the lower edge of the area swept by the windshield wipers, and outside the driver's sight lines to the road and highway signs and signals.
FMCSA is modifying that regulation (Section 393.60(e)(1)(ii)) to increase from 4 inches to 8.5 inches below the upper edge of the area swept by the windshield wipers where safety technologies can be mounted.
The agency is also revising the definition of "vehicle safety technology" to include more devices. Vehicle safety technology will now be defined in the FMCSRs as:
Vehicle safety technology includes systems and items of equipment to promote driver, occupant, and roadway safety. Examples of vehicle safety technology systems and devices include a fleet-related incident management system, performance or behavior management system, speed management system, lane departure warning system, forward collision warning or mitigation system, active cruise control system, transponder, braking warning system, braking assist system, driver camera system, attention assist warning, Global Positioning Systems, and traffic sign recognition. Vehicle safety technology includes systems and devices that contain cameras, lidar, radar, sensors, and/or video.
The new regulations will take effect May 6.
Teamsters meet with Labor Department to discuss truck drivers' working conditions
Deputy Secretary of Labor Julie Su on Thursday, March 3, hosted an online listening session with members of the International Brotherhood of Teamsters to discuss strategies for improving trucking job quality and for retaining and recruiting drivers.
The discussion followed the recent announcement of a partnership between the departments of Labor and Transportation as part of the Driving Good Jobs Initiative. The partnership includes a series of listening sessions to engage drivers, unions and other trucking industry stakeholders to improve labor standards and ensure that the concerns of workers are heard and addressed.
"Truck drivers from across the country who are members of The International Brotherhood of Teamsters – the nation's largest private-sector union for truck drivers and related industries – provided us with invaluable insight about the importance of ensuring truck drivers receive family-sustaining wages and benefits, work in safe and healthy working conditions, have a voice in the workplace, and access to training opportunities," Su said. "The Driving Good Jobs Initiative offers us a roadmap as we work with trucking industry stakeholders to implement 'high road' employment practices, including collective bargaining, to meet the industry's critical workforce needs."
According to the Department of Labor, topics discussed during the session included the misclassification of drivers as independent contractors, better compensation for drivers, support for collective bargaining and enhanced industry training and safety standards.
Stakeholders also emphasized the importance of addressing racial and gender inequities in the industry, and increasing outreach to drivers of color and women, with a focus on personal safety to attract more women to the industry.
TransLand adds vets-support truck to fleet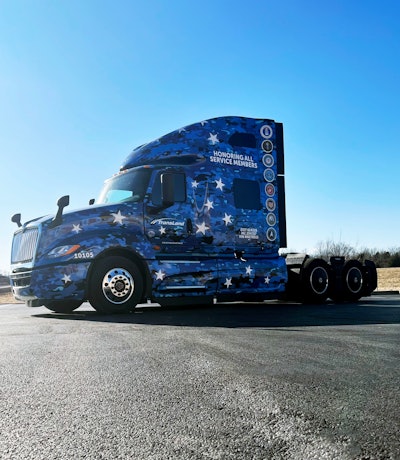 Springfield, Missouri-based TransLand has added a new truck to its fleet that will benefit local veteran organizations.
For every mile TransLand driver and U.S. Army veteran Patrick Flores drives in the new truck, an International LT, TransLand will donate 5 cents to local veteran organizations.
This isn't a new concept for the truckload fleet, however. In 2012, TransLand premiered its pink "Miles for Hope" truck that was partnered with area breast cancer organizations like the Breast Cancer Foundation of the Ozarks. Since the community truck's inception 10 years ago, more than $80,000 has been donated locally.
The second community truck was unveiled in 2018 and partners with Care to Learn to meet students' emergent health, hunger and hygiene needs so they can stay in school. Since 2018, that truck has driven more than 466,500 miles and generated more than $35,000 in donations.
"TransLand is excited for this new partnership," said Mark Walker, TransLand Chairman and CEO. "More than 40% of our professional truck drivers served our nation, and we are forever indebted to their services. This employee-inspired idea to give back to those who give the most is a perfect fit for our charitable fleet."
The new truck will be put into service Tuesday, March 8 at 10 am at the TransLand terminal in Strafford, Missouri. Along with its official first delivery, there will be a ribbon cutting by TransLand veterans and CEO, Mark Walker.