Trucking news and briefs for Tuesday, March 15, 2022:
FMCSA schedules public session at MATS
The Federal Motor Carrier Safety Administration will host a session at the Mid-America Trucking Show in Louisville, Kentucky, later this month.
On Friday, March 25, at 10 a.m., the agency will host an "FMCSA Update" in the ProTalks Theater (Room B104) at the Kentucky Expo Center.
Topics that will be discussed include the Entry-Level Driving Training rule, human trafficking, drug and alcohol regulations, and the Crash Preventability Determination Program. There will also be an opportunity for questions.
Following the information session, FMCSA will hold a joint session with the Department of Labor to discuss the potential of DOL Registered Apprenticeship programs in the trucking industry and will feature a panel discussion of industry leaders who took the 90-Day Apprenticeship Challenge in partnership with Fastport.
Rising fuel costs expected to hit trucking conditions in short-term with long-term uncertainty
FTR's Trucking Conditions Index (TCI) for January fell to 11.46 from 14.45 in December amid rising diesel prices.
FTR says more robust freight rates more than offset the effects of higher fuel costs in January, but freight volume was a significantly weaker positive factor than it had been in December.
A record surge in fuel costs in early March in the wake of Russia's invasion of Ukraine certainly will hit trucking conditions in the near term, FTR said, but the longer-term effects of geopolitical tensions are not yet clear. For now, the TCI outlook remains positive, but the downside risks have increased greatly.
"The war in Ukraine has introduced a high level of uncertainty into the dynamics of truck freight," said Avery Vise, FTR's vice president of trucking. "Sharply higher fuel costs for carriers are a given, but we do not yet know whether sharply higher gasoline prices on top of strong pre-existing consumer inflation and big swings in the stock market will lead to a drop in consumer spending."
Vise added that the surge in fuel prices could cause many of the new carriers registered since mid-2020 to fail.
"Another important factor is the fate of small trucking firms – especially the tens of thousands of for-hire carriers created since mid-2020 – following the unprecedented surge in diesel prices," he said. "Many will fail, but whether that outcome strengthens or weakens today's rate leverage for carriers depends greatly on whether failing carriers' drivers quit the industry or return to driving positions for larger carriers. We generally would presume the latter, which could relieve some rate pressure, but the labor market has changed too much during the pandemic to make that a sure bet."
Three women named Women in Trucking Driver of the Year finalists
The Women in Trucking Association announced recently its three finalists for the 2022 Driver of the Year award, sponsored by Walmart Transportation. The third annual award recognizes outstanding female truck drivers who lead the industry in safety standards while actively enhancing the public image of the trucking industry.
The 2022 Driver of the Year finalists are Peggy Arnold, Francis Hernandez and Courtney Ohlandt.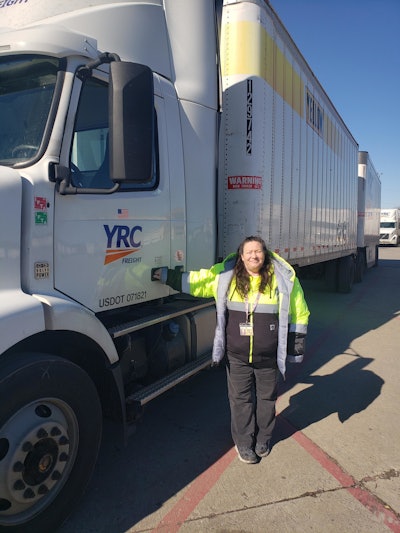 Arnold, a company driver at Yellow Corporation for nearly 30 years. She received Yellow's Million Mile Safe Driving Award with nearly 1.9 million accident-free miles. Arnold serves on Yellow's leadership team, the Women's Inclusion Network Employee Resource Group and is also part of the safety team. Arnold has been named a 2022 Top Women to Watch in Transportation by WIT, an American Trucking Associations America's Road Team Captains Finalist 2022, received Yellow's Road to Excellence Award 2021, and was named a Certified Safety Trainer 2021.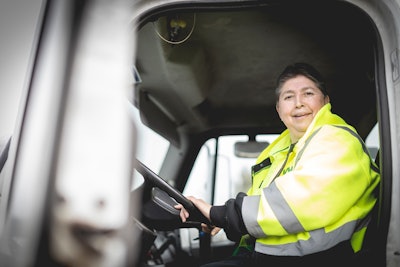 Hernandez has been a driver with Waste Management for 25 years without a single accident. "I put safety above everything while I am behind the wheel. I want to be sure that I get home safe to my family each day and that those who share the road with me do also," she said. Hernandez is a mentor and a certified trainer. She enjoys giving new drivers a solid foundation to be safe and productive for the company she works for. Hernandez also participates on the Green Team, helping with disaster clean up across the country. Supervisors and peers describe her as someone who leads with safety at her forefront, has a team attitude, is dependable, and customer oriented.
Ohlandt pulls 28-foot triple trailers for FedEx Freight. During her 28-year career at FedEx Freight, she has logged more than two million safe-driving miles and has joined the ranks of the Master President's Safety Team. Ohlandt started her career in the industry when she was just 18 years old with encouragement from her father. She has always been up for a challenge and worked in a variety of roles such as hostler driver, management, pick-up and delivery driver, and road driver. Supervisors describe Ohlandt as dedicated to safety and efficiency, reliable and inspiring for those around her.
The winner of the award will be announced at the Salute to Women Behind the Wheel event hosted by WIT on Friday, March 25 at the Mid-America Trucking Show in Louisville, Kentucky.
TCA surpasses 800 members
The Truckload Carriers Association (TCA) has reached a new membership milestone of 800 members. This is a 20-year high in membership for TCA, and it has been reached with a recent 18% year-over-year surge in members.
TCA's membership is comprised of for-hire carriers, private fleets, associates, and driver training schools. TCA carrier members now have a combined truck count of more than 220,000 trucks that represent more than $40 billion in annual truckload revenue.
"We're thrilled with these record membership numbers, and we look forward to building on this success," said TCA Vice President of Membership & Outreach Zander Gambill. "TCA's membership value proposition has never been stronger, and our engaged members and their contributions to TCA have been integral to our growth. We are proud to serve this essential marketplace and community."
Fueled by the Association's Truckload Strong initiative, which is predicated on showcasing the truckload segment of the industry's importance, this new membership mark is timely, as the membership is set to converge on TCA's Annual Convention, Truckload 2022: Las Vegas, March 19-22 at the Wynn Las Vegas.