Regulations out of California are shaping the face of modern trucking through two elements most critical to freight movement: trucks and the people that drive them.
The Golden State is ground zero for some of the most aggressive anti-emissions rules in the country, and California's AB 5 independent contractor classification law instituted strict criteria for determining a worker's classification status – employee or contractor – known as the ABC test.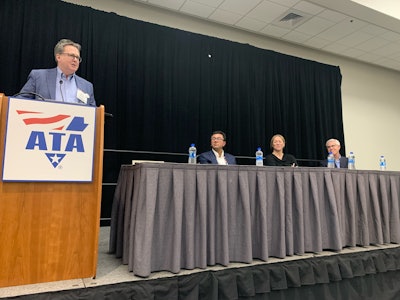 In the case of trucking, the "B" prong of the ABC test effectively bars motor carriers from contracting with owner-operators, including by some estimates both those who lease their equipment to a carrier and run under their authority and independent operators/fleets with their own authority who contract to haul freight for a larger carrier.
The "B" prong of the test is particularly problematic for traditional leasing arrangements with owner-operators classified as independent contractors, given it requires a contractor to be outside the normal course of business of the entity contracted to.
Speaking at the American Trucking Associations Management Conference and Exhibition Sunday in San Diego, legal partners at transportation legal firm Scopelitis, Garvin, Light, Hanson & Feary highlighted the law's looming effects on the industry – a law that Glenn Fehribach, CFO of transportation and logistics network World Group, who led the panel Sunday, called "fundamentally flawed" because it assumes owner-operators don't want to be their own boss and will "magically" convert themselves to employees.
Light enforcement thus far
In effect for the trucking industry since late-August, when the U.S. District Court for the Southern District of California lifted an injunction that had been in place since January 2020 and the U.S. Supreme Court declined to hear the case earlier this summer, Greg Feary, managing partner and president of Scopelitis, Garvin, Light, Hanson & Feary, said there's no indication that enforcement of AB 5 has been heavy to-date, but he has seen class action cases percolating.
"If you're a really large, very high profile carrier, look out," he said. "That's a way of enforcing the law; to prosecute the big motor carriers. It gets everybody else in line."
A fleet's size, however, isn't a safe haven from prosecution. Feary said small carriers, who may be less likely to be "doing it right," are an easy target.
Joe Rajkovacz, director of government affairs for the Western States Trucking Association, speaking Friday, October 21, at the annual conference of the National Association of Small Trucking Companies, noted that for California-domiciled fleets it's not just court cases that where enforcement is possible but direct action via California employment regulators' audit activity.
California's Department of Industry Relations might open an investigation into a company's contractor classification scheme based on a complaint, yet they also have discretion to "initiate their own investigation," Rajkovacz said. And the Employment Development Department, overseeing unemployment insurance claims, too, routinely audits employer programs there – including in some instances those of brokers utilizing independents with authority. Rajkovacz noted some WSTA brokerage members getting embroiled in misclassification issues when an independent "gets in a stable of a broker," so to speak, where the independent is utilizing the broker "100% of the time," a problem with EDD audits even before the ABC test was the law of the state.
WSTA, the American Trucking Associations, California Trucking Association, Owner-Operator Independent Drivers Association and a number of other groups were all part of a lawsuit fighting AB 5, and CTA continues to seek a preliminary injunction, claiming AB 5 is an undue burden on commerce, noted Prasad Sharma Partner, Scopelitis, Garvin, Light, Hanson & Feary. "But it's going to be an uphill climb."
That uphill climb, if unsuccessful, could include collateral damage.
"AB 5 is putting the thumb on the scales to drive owner-operators and small fleet companies out of business – some of the safest drivers on the road, especially one-truck owner-operators," Fehribach said. "Could there be unintended consequences? Could our roads actually become less safe?"
Feary suggested a number of legal strategies that could help motor carriers remain in compliance with AB 5, but there were potential drawbacks or pitfalls to each.
"This law is all about leaning toward creating employment," Feary said, noting that's not an environment that favors trucking and independents who want to remain independent.
Shannon McClellan Cohen, partner at Scopelitis, Garvin, Light, Hanson & Feary, added "there will be no quick legislative fix" if there's any fix at all, and suggested carriers be prepared to comply long-term.
WSTA's Rajkovacz, underscoring the unlikely nature of any state legislative fix, noted that in California, effectively, "we have one party rule" with the significant influence of trial-lawyer and organized-labor interests. "You're seeing that influence, too, at the federal level," today.
Paths to compliance
The easiest path to compliance is to shift from an owner-operator/contractor model to one that uses employee drivers. But clearly not all independents want to be employees. "It's not that easy," Feary said. "Drivers are more likely to become their own motor carrier or leave the industry entirely."
A settlement carrier model – one that calls for contractors to obtain motor carrier authority while the fleet acts as broker and one among different sources of freight – Feary said, meets all three of the ABC prongs, yet there is still some caution on the B prong, as illustrated by Rajkovacz's commentary on WSTA broker members above. Under this model, though, fleets are more likely to qualify for application of AB 5's business-to-business exemption.
Fleets could also be strategic in which drivers they dispatch to California and when, as the amount of time a driver spends in California compared to time spent in other states will determine which state has the more compelling jurisdiction over that independent driver.
"Who do I have in my owner-operator fleet that spends a lot of time in states that are not California," Feary said. "Are those the guys I should be dispatching into California? The argument is yes... to make a jurisdictional argument."
For small fleets domiciled in California and elsewhere among WSTA's members, Rajkovacz noted a current dynamic relative to AB 5 compliance somewhat similar to the early days of the California Air Resources Board's Truck and Bus Rule, which phased out in-use equipment based one engine model year starting with a ban on pre-2007-emissions spec engines more than a decade ago now. "People just can't believe that this has happened,' he said. "It's not that they're ignoring it, though, they're just continuing business as usual" given a feeling of a "kind of hopelessness." --Overdrive Editor Todd Dills contributed to this report.