Trucking news and briefs for Monday, Jan. 30, 2023:
NHTSA denies CVSA petition to remove rear impact guard label requirement
A 2019 petition by the Commercial Vehicle Safety Alliance asking the National Highway Traffic Safety Administration to amend the regulations related to rear impact guards on trailers has been denied.
CVSA asked NHTSA to remove the certification label requirement in the Federal Motor Vehicle Safety Standards (FMVSS) for three reasons:
That the certification label requirement "is resulting in the citation of rear impact guards that otherwise meet the physical requirements and have no negative impact on safety,"
That "certification labels frequently wear, fade or are removed during repair" and that "motor carriers are unable to obtain new certification labels from the original trailer manufacturers because they can no longer guarantee that the rear impact guard meets the FMVSS manufacturing standard," and
CVSA believes removing the certification label requirement would "eliminate confusion and inconsistency in enforcement," which CVSA said would be beneficial, "while not negatively impacting safety as the physical components of the guard will still be inspected to the same standard during a roadside inspection."
In denying the request, NHTSA said it believes removing the labeling requirement "could reduce the safety provided by rear impact guards on trailers and semitrailers."
"Without the labeling requirement, it would be more difficult for NHTSA to identify trends that may indicate a particular rear impact guard contains a safety related defect," NHTSA noted.
In reference to CVSA's concern about certification labels wearing, fading or being removed during repair, NHTSA said it "does not believe that this indicates a current compliance issue with the requirements" in the FMVSS.
Pitt Ohio adds 32 next-day lanes into New York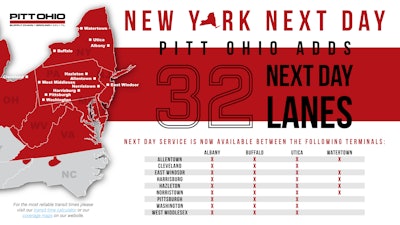 Pitt Ohio (CCJ Top 250, No. 52) announced last week it has improved transit times to and from New York state by adding 32 next-day lanes from the Mid-Atlantic.
The LTL carrier is now able to transport freight within one days' time to and from their terminals in Albany, Buffalo, Utica and Watertown to terminals in their Mid-Atlantic core territory.
Shippers gain improved, one-day transit times from nine of Pitt Ohio's terminals to and from Albany, Buffalo and Utica. Five of the company's terminals in the Mid-Atlantic are now next day to and from Watertown.
"Pitt Ohio is committed to providing our customers with best in class, next day service," said Executive Vice President and Chief Marketing Officer Geoff Muessig. "Expansions such as this one to New York is a result of listening to our customers' needs and responding with service and solutions they require. When we expanded into the entire state of New York back in August with direct service, our first objective was to hire drivers and staff to help us improve service standards."
Pitt Ohio announced last summer the expansion into New York, offering direct service with four new terminals in Albany, Buffalo, Utica and Watertown.
New Jersey Volvo, Mack dealer now a Certified EV dealer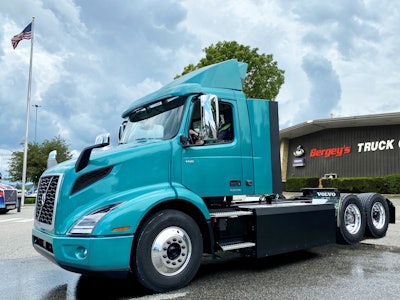 Volvo Trucks North America and Mack Trucks have named Bergey's Truck Centers based in New Jersey a Certified EV Dealer.
The dealership's Trenton, New Jersey, location is the first of its 17 locations to complete the necessary sales and service team training and facility upgrades to become a certified dealership and is now ready to support customers throughout the Mid-Atlantic region that are interested in adding Volvo VNR Electric trucks to their fleets.
"Fleets in the dense urban regions along the East Coast of the U.S. are increasingly recognizing that the battery-electric Volvo VNR Electric is ideally suited for their local and regional distribution routes," said Peter Voorhoeve, president, Volvo Trucks North America. "We continue to expand our Volvo Trucks Certified EV dealership network to support fleets across North America to ensure they are choosing the right configuration of the Volvo VNR Electric for their own unique routes and doing so in the most cost-effective way, accessing all available grants and incentives."
For Mack, the dealer's Trenton location will service and support the Mack LR Electric refuse truck.
"We continue to see Mack dealers commit to EV certification, and it's no surprise that Bergey's Truck Center has made the required investment to achieve certification and help move the industry toward zero emissions," said Jonathan Randall, president of Mack Trucks North America. "Bergey's has a reputation for exceptional service, and now customers with Mack EV products can count on the same superior support they experience with all Mack products."