Trucking news and briefs for Friday, March 24, 2023:
Trucking groups launch new Clean Freight Coalition
A group of trucking industry stakeholders on Thursday announced the launch of the Clean Freight Coalition, which aims to promote future cleaner truck transportation in a way that assures affordable and reliable freight movement.
The five founding members of the coalition are the American Trucking Associations, Truckload Carriers Association, National Tank Truck Carriers, Truck & Engine Manufacturers Association, and the American Truck Dealers group.
Jim Mullen, former acting administrator at the Federal Motor Carrier Safety Administration, will serve as CFC's executive director. Mullen has also previously served as chief administrative and legal officer at autonomous truck developer TuSimple.
"Trucking is the backbone of our economy and critical to the nation's supply chain," Mullen said. "It is an honor to lead CFC in its pursuit to get to zero emissions in a responsible and feasible manner."
The coalition said its mission is to:
Educate policymakers on the progress the trucking industry has made in reducing emissions and protecting the environment
Promote the work underway to reduce greenhouse gas emissions from freight transportation
Advocate for sound public policies that transition toward a zero-emission future in a manner that assures affordable and reliable freight transportation and protects the nation's supply chain
"To get to zero, we have to be honest and transparent about the road ahead," said ATA President and CEO Chris Spear. "Success depends on a national energy strategy that is inclusive of our industry – the most central and critical link in the supply chain."
PacLease leases first electric Peterbilts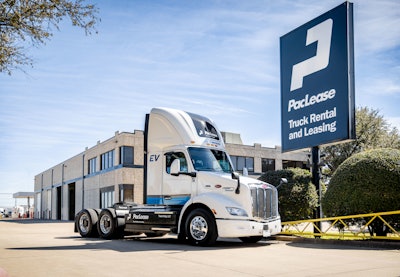 PacLease, a full-service lease and rental company, presented keys for two Peterbilt Model 579 EV Day Cabs to Truck King, a Dallas-area trucking company.
The day cabs, on a full-service lease through PacLease Dallas, will be used for local line-haul operations – running approximately 100 miles roundtrip.
"This lease with Truck King represents the beginning of a new journey as PacLease increases its presence of leasing and renting electric Peterbilt and Kenworth trucks," said Ken Roemer, President of Paccar Leasing. "The dominoes are beginning to fall and with other orders being filled soon, we're on our way."
Truck King operates 65 trucks in the Dallas-Fort Worth metroplex – a mix of flatbed and box trucks – hauling components used in manufacturing for local companies.
"We did a cost analysis on maintenance and fuel for our diesel trucks compared to leasing EV trucks from PacLease, and we saw that it was a smart move on our part to look at the future," said Cole Smith, President and CEO of Truck King. "And since PacLease opened the door for us in getting grant money from the state of Texas, the cost difference wasn't that far off."
With the growing emphasis on emission reduction and the emerging electric truck market, PacLease has invested in a robust charging infrastructure, certified technicians, and Kenworth and Peterbilt medium- and heavy-duty electric truck models at its U.S.-based Paccar Leasing company stores. "This spring, our electric rental trucks will make their debut in Texas," said Roemer. "We plan to add EV units at other locations throughout the year as well."