Trucking news and briefs for Thursday, April 20, 2023:
FMCSA denies propane haulers' HOS exemption request
A petition from the National Propane Gas Association (NPGA) seeking waivers from several provisions in the hours-of-service regulations has been denied by the Federal Motor Carrier Safety Administration.
NGPA asked FMCSA to allow its drivers to extend their 14-hour duty period to no more than 17 hours; to extend the 11-hour driving period to no more than 14 hours, following 10 consecutive hours off-duty; to waive the 60- and 70-hour rules for a period of no more than six consecutive days; and to allow a period of six consecutive days to end with the beginning of an off-duty period of 34 or more consecutive hours.
The group said that, because of various consumer needs, long- and short-haul propane drivers often reach the maximum operating HOS limits within three or four days, and subsequently, companies experience reductions in available drivers while consumer demand continues.
In its denial, FMCSA said "NPGA's application does not provide an analysis of the safety impacts the requested exemption from the HOS regulations may cause," adding that it "does not provide countermeasures to ensure that the exemption would likely achieve a level of safety" equal to or greater than current regulations.
Artur Express adds three electric trucks to fleet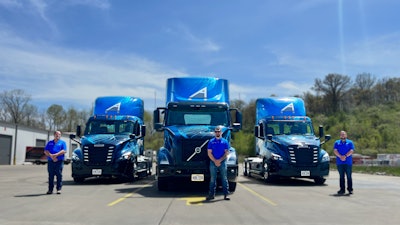 Artur Express (CCJ Top 250, No. 102) on April 13 unveiled three custom-wrapped fully electric trucks.
The trucks, two 2024 Freightliner eCascadias and one 2024 Volvo VNR Electric, will be used on Artur Express' local, dedicated Chep Pallets account.
"Our customers have expressed the desire to partner with carriers who use electric vehicles, and we are proud to deliver," said Artur Express President Artur Wagrodzki.
The trucks, which have a range of up to 230 miles on a single charge, will operate in the 150-mile radius of the dedicated account. The trucks will be driven by Artur Express drivers Erik Bucceri, Ronald Bretz, and Chucky Riggs. On Monday, April 17, the trucks officially pulled their first loads.
"I never thought I'd be driving electric," said Bretz, a driver with 23 years of experience. "It's a smooth ride. I can't believe I'm saying this, but I love it."
Bretz, who drives one of the two 2024 Freightliner eCascadias, added that the truck "responds well, it pulls well. I'm really impressed. The turning radius is incredible. I could back this truck in anywhere. The interior is beautiful, the steering is a dream, and the stereo works great."
Bucceri, who drives the Volvo VNR, said the truck is "a lot quieter and smoother than a traditional day cab. It has a great turning radius, and the steering wheel is responsive. It has great pulling power. It feels very luxurious. I really like it."
160 Driving Academy offering virtual hazmat training in 30 states
160 Driving Academy is now offering virtual hazmat training in 30 states, with plans to add more in the future.
The school's hazmat training course consists of a four-hour, virtual course, led by a live Instructor. Successful completion of the course will see participants added to the federal training provider registry so that they may test at their driver's services facility for their Hazmat endorsement.
States where the program is offered include: Alabama, Arkansas, Arizona, California, Delaware, Georgia, Illinois, Indiana, Iowa, Kansas, Kentucky, Louisiana, Massachusetts, Mississippi, Missouri, Montana, Nebraska, Nevada, North Carolina, New Jersey, New Mexico, Oklahoma, Ohio, Oregon, Pennsylvania, South Carolina, Utah, West Virginia, Wisconsin and Wyoming.