Trucking news and briefs for Thursday, July 13, 2023:
FMCSA cracking down on household goods moving fraud
As peak moving season ramps up, the Federal Motor Carrier Safety Administration is continuing its multi-prong approach to identifying and taking action against movers and brokers aiming to defraud consumers.
Earlier this year, FMCSA launched Operation: Protect Your Move in response to a significant uptick in complaints of movers holding household goods hostage and extorting exorbitant additional charges from consumers.
As part of recent a three-week enforcement sweep to curtail household goods moving scams, dozens of highly trained agency personnel conducted more than 100 investigations across 16 states, resulting in more than 60 enforcement actions that may lead to the revocation of operating authority for some movers and brokers.  
"FMCSA takes very seriously its responsibility to help protect consumers when moving their household goods across state lines," said FMCSA Administrator Robin Hutcheson. "We've made great progress in identifying scam movers and brokers, but we can't do this alone. We must work with partners across federal and state government to make the greatest impact." 
The agency also established the Household Goods State Enforcement Partnership Program to maximize the impact of collective efforts. Through this program, participating state agencies have access to FMCSA enforcement databases, free training on federal regulations and laws, and will participate with FMCSA on joint investigations to support increased enforcement actions. Eleven state agencies have signed on, including the Attorneys General offices for Arizona, Arkansas, Florida, and Texas. Four additional state partners are expected by the end of summer.  
Additionally, FMCSA formed an internal technical advisory group to help guide future efforts. The agency is improving training programs for investigators, hiring additional personnel, and expanding its consumer education and outreach footprint, including a digital toolkit with updated videos, checklists, and other useful information to help individuals prepare for an interstate move and spot red flags before it's too late.  
The FMCSA National Consumer Complaint Database remains available, and consumers may file complaints or research the history of movers and brokers registered with FMCSA.
[Related: Household goods moving scams the target of new FMCSA crackdown]
OOIDA pens letter in opposition of PRO Act
The Owner-Operator Independent Drivers Association this week penned a letter to members of the U.S. Senate voicing the group's concern over the Richard L. Trumka Protecting the Right to Organize (PRO) Act of 2023.
The PRO Act would codify the ABC independent contractor test into the National Labor Relations Act for determining worker status for the purposes of seeking to unionize. The legislation was approved by the U.S. Senate Committee on Health, Education, Labor and Pensions (HELP) on June 21, moving it to the full Senate for a possible eventual vote.
In the letter, OOIDA President Todd Spencer said the PRO Act "would create uncertainty for drivers and motor carriers utilizing" the leased owner-operator model.
Spencer added that OOIDA understands the intent of the legislation "is to specifically address classification for the purposes of labor organizing," but in practice, "employers would likely use this test to classify their workers under all laws."
As a solution for improving working conditions and compensation for truck drivers, Spencer said Congress "could start by repealing the overtime exemption for employee truck drivers. Under the [Fair Labor Standards Act], truckers are specifically exempt from guaranteed overtime pay. This provision makes it the law that a driver's time is less valuable than other workers, and it should be eliminated."
Fleets added to NACFE Run on Less electric truck program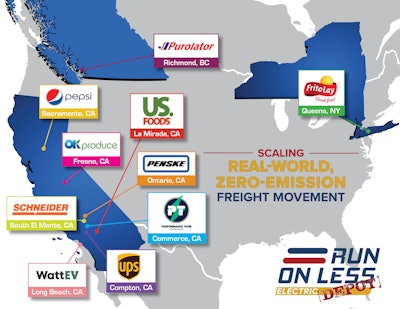 Two more fleets have joined the eight fleets already signed on for the North American Council for Freight Efficiency's (NACFE) Run on Less – Electric Depot.
Purolator, located in Richmond, British Columbia, and US Foods in La Mirada, California, will now participate in the Run along with Frito-Lay, OK Produce, Penske, PepsiCo, Performance Team, Schneider, UPS and WattEV.
"We are thrilled to have so many fleets interested in being in Run on Less – Electric Depot and are looking forward to learning more about the operations at Purolator and US Foods," said Mike Roeth, NACFE's executive director. "It's exciting to have a Canadian fleet participating and great to add another California fleet too."
NACFE also has determined which trucks it will be following at the 10 truck depots participating in this fall's Run.
Frito-Lay: Two Ford eTransit vans will be tracked operating in urban delivery.
Penske: A GM BrightDrop, a Navistar eMV and a Freightliner eCascadia, representing light-, medium- and heavy-duty duty cycles, will be followed.
PepsiCo: Two Tesla Semis will be tracked in heavy-load long-haul transport operations.
Performance Team: Two electric Volvo VNRs will be tracked conducting short-haul port routes.
Purolator: A Class 6 Motiv step van and a Ford eTransit will be tracked in e-commerce package delivery.
OK Produce: A Volvo VNR Electric and an Orange EV terminal tractor will be tracked in local fruit and vegetable deliveries and terminal tractor applications, respectively.
Schneider: Two Freightliner eCascadias operating in slip-seated drayage will be tracked.
UPS: A Freightliner Custom Chassis last-mile step van and a Freightliner eCascadia in a middle-mile duty cycle will both be tracked.
US Foods: Two Freightliner eCascadias will be tracked in food delivery applications.
WattEV: Two Nikola Tre BEVs operating at the Port of Long Beach will be tracked.
Roeth said NACFE will be able to share more about the trucks and the data they will collect at a later date. "Throughout August and leading up to the Run starting on September 11, we will be posting Depot Profiles that will detail the aspects of the infrastructure, trucks, routes and drivers," he said.
The Run will look at more than the trucks and also will focus on chargers and infrastructure.
[Related: NACFE Electric Depot fleets share hopes, concerns]
Aim Transportation Solutions opens two used truck dealerships
Aim Transportation Solutions announced this week it has opened two used truck sales centers in Indianapolis and South Holland, Illinois, near Chicago.
The company said the locations "are a go-to destination for businesses and individuals in search of top-notch trucks ready to tackle any job. With an extensive inventory of well-maintained pre-owned commercial vehicles, both dealerships offer a one-stop-shop for all trucking needs."
Additionally, both locations offer pre-owned trucks and trailers that are just off lease, meaning they have been owned and maintained by Aim.
The locations will offer heavy-duty trucks, box trucks, refrigerated equipment, trailers and more. Because of Aim Transportation Solutions' diverse leasing customer base, Aim's used truck inventory offers the same diverse range of equipment for used equipment seekers who work in industries such as logistics, manufacturing, food and beverage distribution and more.
Aim also provides after-sales services, including maintenance and repairs, ensuring that customers' trucks stay in optimal condition for years to come. With a dedicated truck maintenance shop staffed by highly skilled technicians and equipped with cutting-edge diagnostic and repair tools, customers can rely on Aim to keep their trucks running smoothly and minimize downtime.