Rivian
The California Air Resources Board in late October released a report showing that truck manufacturers are exceeding sales targets for zero-emissions vehicles and are now two years ahead of schedule, demonstrating what CARB called "the interest that fleet operators have in zero-emissions trucks." That is, as long as those fleets are operating light-duty vehicles.
The Advanced Clean Trucks (ACT) rule approved in 2020 requires manufacturers that sell more than 500 vehicles in California to report vehicle sales and how many of those vehicles were zero emissions. The sales requirements start in 2024 and CARB Executive Officer Dr. Steven Cliff said the early success of meeting them in 2022 ensures that manufacturers have enough credits to sell internal combustion engine models as needed to meet market demands.
He added the report makes several important points: users are interested in adopting zero-emissions technology; several manufacturers are stepping up to meet that market interest; and the built in flexibility that allows for a phased-in transition toward a zero-emissions future is working.
"Helping the businesses that rely on trucks to transport goods across the state switch to zero emissions is key to achieving a clean air future, and the data show that progress is well underway," he said.
The reality is, of the 7,639 zero emission vehicles produced and delivered for sale by 18 listed manufacturers, 7,016 (94%) of them were from Rivian and Ford. Rivian alone accounted for 71%. In the eyes of the Environmental Protection Agency (EPA), the higher curb weight of Rivian's vehicles make them a Class 2b heavy-duty vehicle, whether they are hauling good to consumers or children to soccer practice.
Clean Trucking reached out to CARB last week seeking a break down of how much of Rivian's sales were commercial vans compared to its consumer SUV, and how many heavy tractors were purchased without the aid of subsidies. A spokesperson told us that CARB does not receive that level of detailed information directly through ACT reporting, adding that ACT reporting does not require that the manufacturer report whether a vehicle has received state grant funds.
Chris Shimoda, senior vice president of government affairs for the California Trucking Association, noted that there were 106 Class 7/8 tractors delivered in 2022 and Class 7/8 tractors made up less than 1% of total sales last year.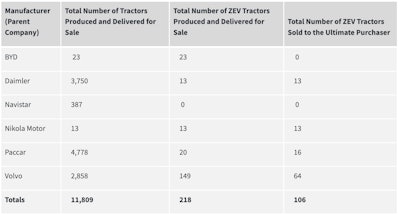 The trucking sector accounts for only 6% of the vehicles on California's roads yet is responsible for more 35% of the state's transportation-generated nitrogen oxide emissions and a quarter of the state's on-road greenhouse gas emissions, according to CARB. Communities in the state that lie near trucking corridors and warehouse locations with heavy truck traffic, often are low-income and culturally diverse, have some of the worst air quality in the nation.
CARB in 2020 adopted the Omnibus regulation – rules that reduce exhaust and smog-forming emissions from heavy-duty internal combustion engine trucks sold in California. The Omnibus regulation was adopted with flexibilities to allow manufacturers to focus development resources and the rollout of new technologies across the various vehicle types they produce to ensure robust supply while also achieving emissions reductions. Manufacturers have increased the sale of credit-generating diesel and natural gas engines that reduce smog-forming emissions, bringing cleaner engines to California ahead of the 2024 Omnibus standards, CARB found.
Manufacturers ZEV sales last year, when no truck purchase or manufacturer sales requirements were in effect, were 7.5% of total sales. The statewide ZEV sales requirement in 2024 is about 6% of total annual sales. Volvo last year delivered ZEV tractors for sale at a rate of 5.2% of annual sales, according to CARBm higher than the 5% ZEV sales requirement that applies to Class 7/8 tractor sales next year.
Several manufacturers, CARB said, have already earned ZEV credits beyond what they need to comply by the end of 2024 including Bluebird, BYD, Ford, GreenPower, Lightning eMotors, Lion Electric, Nikola Motor, Rivian, Volvo and XOS Trucks.