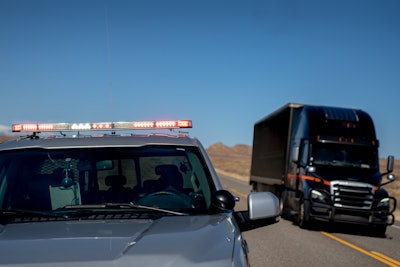 There's an iPhone commercial that depicts a user's information – emails, contacts, purchases, etc. – being sold at auction to high bidders. Bob Trent, vice president of communications at PrePass Safety Alliance, used this commercial as an analogy to explain how valuable drivers' personally identifiable information and carriers' data can be.
That information could be made available to state agencies and any potential bad actors should the Federal Motor Carrier Safety Administration enforce the use of a unique identification device (UID) or Level VIII inspections. Both UID and Level VIII facilitate wireless roadside inspections, electronically or wirelessly transmitting information while the vehicle is in motion.
And, so far, both have caused more questions to be raised than answered, Trent said in a recent PrePass webinar titled Preparing for the Arrival of Electronic Truck Inspections. The webinar addressed how new inspection technologies could affect carrier operations and what information carriers and their drivers may be required to transmit to inspectors.
"There are just a large number of pertinent questions that have yet to be answered in order to reach a decision for or against moving forward in these areas," Trent said.
The FMCSA issued a UID Advance Notice of Proposed Rulemaking (ANPRM) in September 2022, and the Commercial Vehicle Safety Alliance met recently in March for its Level VIII Inspection Forum to discuss how the input from the UID ANPRM could reflect into that.
The FMCSA declined CVSA's petition for a rulemaking on UID in the 2010s because of lack of clarity around the cost of implementation – outfitting trucks with the devices and establishing a system for transportation agencies to use. Proponents of UID say implementing the concept would save carriers time and money by speeding up the inspection process and reducing the amount of stops for professional drivers. But the ones behind the wheel feel it's too intrusive.
"(CCJ parent company) Randall Reilly did a survey last summer, and it came back as 27% of respondents in the trucking industry would leave the industry if UID as it seemed to be described in that ANPRM became law," Trent said. They feel that "the regulation has reached a point where it is so intrusive that I am going to go do something else. I'm not comfortable with that."
Data in the FMCSA UID ANPRM included information on the driver (hours of service, CDL compliance, medical certification); on the carrier (name, contact information, PRISM data); on the truck (pre-trip inspection date and time; GPS location, date and time; axle weight; gross vehicle weight rating; license plate number; USDOT number; unique vehicle ID; international registration plan); and advanced technologies (safety systems; driver and vehicle monitoring systems; trailer system monitoring).
Trent said stakeholders, including the PrePass Safety Alliance and trucking associations, among others, had come to the conclusion that they could accept UID as long as it did not transmit personally identifiable information regarding the operators or drivers of the vehicle and did not create an undue cost burden on operators or carriers. It should function as a single point of data such as the VIN, but under the ANPRM, he said UID seems to be much closer to Level VIII.
"The UID ANPRM went beyond the single point of data such as the VIN, and that conflates the two," Trent said. "Is UID just that identifier, and roadside enforcement can do what they want with that identification? Or is it in fact part and parcel of Level VIII inspection, and has that discussion begun?"
Under Level VIII, the data exchange would include descriptive location, including GPS coordinates; electronic validation of who is operating the vehicle; driver's license class and endorsements for the vehicle being operated; commercial vehicle license status; medical examiner's certificate and skill performance valuation certificate; and the current driver's record of duty status.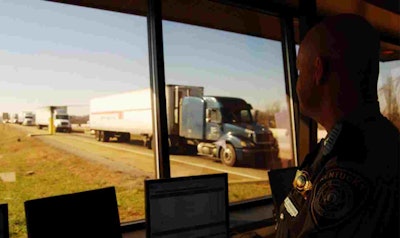 A bevy of unanswered questions
These are some of the key discussion points that came up regarding Level VIII inspections during the forum:
Should it be voluntary or mandatory for motor carriers to participate?
Should the process be similar to the ELD, which was initially voluntary and then became mandatory, or should it be implemented in phases?
How will inspection software be integrated, and how big of an undertaking is that?
What is the cost to not only state agencies installing this but to carriers and owner operators who now have to install another device in their trucks?
Trent said it could create inequity among carriers or owner operators that can't afford new trucks; those who can't afford it would have to pull in for inspections, making competition for them even tougher because they wouldn't have the time and fuel savings, not to mention accident rates go up when they're made to exit and re-enter the interstate from a weigh station. That means the FMCSA would have to develop new, highly sophisticated technology that is interoperable with tractor and trailer manufacturers and backwards compatible if all trucks on the road are going to be included.
[Related: Preparing your fleet and drivers for CVSA's Roadcheck]
But the questions go deeper than how it should be implemented to should it be implemented at all.
A big concern is cybersecurity, Trent said.
How would carrier and driver data be transmitted and received? If that much data is being transmitted, how will it be protected?
"What is the best data protection and computer virus protection available on the market right now? Will it be obsolete in six months, particularly if it's high-value information? Also, that timeline gets much shorter; how long will we be able to protect that data from getting out to bad actors," Trent asked.
Drivers traditionally are conservative with their information, and requiring their data could have a bigger impact on the industry when it comes to recruitment and retention, he said. It also begs the question, what will carriers receive in return for sharing that data? If a truck drives past with a clean inspection, maybe it could be included in their Injury Severity Score and lower their scores, Trent offered.
Furthermore, how would that data be used after carriers provide it to federal and state governments?
"GPS location, date and time. A concern about that might be now that we're able to track trucks from point A to point B in a state, does that perhaps feed into a vehicle miles traveled tax or enforcement measures? If you got from point A to point B in this amount of time, you had to have been speeding; things like that," Trent said. "There would need to be a very clear definition and boundaries; otherwise, once the information is turned over to the government they can share and use it, for the most part, how they want."
There's also a potential burden on states, he said. If every truck in violation isn't detained, will states be held liable if one of those trucks goes on to be party in a crash, he asked. He said that's also a real concern because truck parking is already an issue. Is there available parking for out-of-service trucks if the state does detain vehicles?
Ultimately, the biggest claim that must be proved is that implementing electronic inspections can improve highway safety.
"What are those safety benefits of UID and Level VIII?" Trent asked. "I think it's unclear, but also the burden is not on the industry to come up with that information."