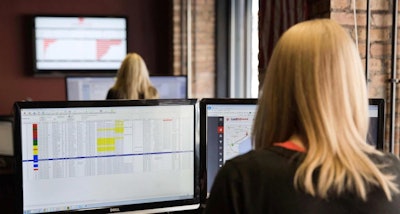 The spot market has been transformed by digitization. Shippers, third-party logistics (3PL) providers and motor carriers are using the latest technology to stay connected and share real-time visibility of available loads, capacity and pricing.
Spot market transactions account for a fraction of total freight volume, however. Freight procurement is — and always has been — a much larger opportunity for digital transformation. Here's why: On average, about 80% to 90% of shipments go through a freight procurement process known as a freight bid or request for proposal (RFP).
Traditionally, shippers conduct RFPs on an annual basis, often a year or two in advance of starting new contracts. After several rounds of bidding, shippers award freight contracts and begin a months-long onboarding process for new carriers.
The long-winded RFP process has changed significantly in the last five years. Supply chains have had to become more nimble and more dynamic to keep up with e-commerce and major shifts in consumer buying patterns during the COVID-19 pandemic.
The traditional RFP fell apart in the latter half of 2020 when freight rates skyrocketed, leading many carriers to stop accepting committed loads from shipper RFPs and heading to the spot market to cash in.
In response, many shippers have foregone annual RFPs to do "mini bids" in 30-, 60- and 90-day cycles. This process has inundated carriers with RFPs that require fast response times. Shippers have also been struggling to bring the right mix of carriers into RFPs on short notice.
All parties could benefit from a more intelligent and efficient process to manage bids.
Creating data silos
One aspect of the RFP process that largely has remained the same is exchanging .csv and .xls files. Shippers start bids by sharing files with freight and lane details. Analysts for carriers then use spreadsheets to translate the data into terms they understand by aligning zip codes and mapping the lanes to their own freight networks.
Once analysis is done, analysts submit rates in the original file formats. After an RFP is complete, important data about lanes won and lost, at what price and other details are saved. But that information is stored on hard drives of pricing analysts where it instantly becomes siloed, fragmented and useless for future bids.
Prior to rejoining Trimble in 2019 as General Manager, James Langley was president of DART Transit, a truckload carrier with 2,000 trucks. The Eagan, Minnesota-based company saw a marked increase in RFP volume, and in 2019 had eight pricing analysts doing 10 times more work than three years ago, he said.
"We had to get more efficient," Langley said. "Often in a mini or dynamic bid, the fastest gun wins, which is hard to do with dozens of bids with hundreds or thousands of lanes to price every week."
Streamlining bids
One of the ways that bid-related information is being taken out of silos is through technology. Engage.Bid from Trimble is a web-based data warehouse tool for managing bids. The online interface has tools that provide instant access to market intelligence, historical lane data and automation tools for bid analysis and processing.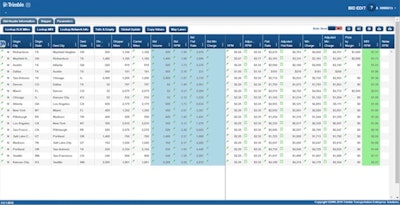 While originally developed to work with TMW.Suite, Trimble sees an increased demand across all of its TMS products for a connected RFP software system for bringing data in from post-bid awards for customer service and operations staff to use for optimal load planning and execution.
The future of bid management technology will not require singular client-server applications. Instead, fleets will subscribe to applications, such as Engage.Bid, and specific features using "microservices" within their platforms of choice, Langley said. Microservices use bi-directional application programming interfaces (APIs).
Finding a better fit
RFPs are typically done with a "small, shallow pond" of carriers, said Anshu Prasad, chief executive of Leaf Logistics. This often causes both shippers and carriers to miss opportunities to connect lanes that make the most sense for both parties.
Leaf Logistics is a New York City-based company that developed a freight contracting platform used by shippers, 3PLs and carriers to secure future transportation capacity, rates and service outside of an annual RFP process.
The company's software analyzes freight volumes from shippers and 3PLs, and capacity from carriers, to coordinate cost-saving round-trip opportunities. It offers these opportunities to carriers to bid on for shorter-term contracts.
Prasad compares the platform to a utility that has a network grid of freight opportunities. Pre-approved carriers can plug in to the grid using Leaf's platform to view "book now" freight opportunities with contracts lasting anywhere from two to 52 weeks.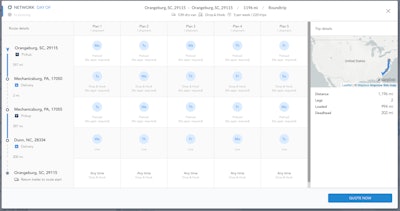 Dynamic pricing algorithms developed by digital freight brokers are also changing how shippers use traditional RFPs and mini-bids. Convoy sources capacity from thousands of owner-operators and small carriers for its digital freight network.
Last fall, Convoy announced a guaranteed capacity program called a dynamic backup, where participating shippers award Convoy a lane or set of lanes and agree to an upfront, fixed margin that's lower than the industry standard.
More than half of Convoy's freight already comes through an RFP. The dynamic backup is for freight lanes that shippers have awarded but can't find coverage for during the load tender process, explained Dan Lewis, co-founder and CEO.
The program integrates with a shipper's TMS system to provide instant pricing for loads. Instead of using a static backup rate on file, shippers can use the instant dynamic backup price before they go through the effort of getting a price in the spot market.
Dynamic pricing moves with the market based on Convoy's pricing algorithm, which uses machine learning to predict truck costs days prior to the shipper tendering loads.
Convoy's offering guarantees that freight will be accepted when offered to carriers. The pricing algorithm provides stability to carriers in Convoy's network because the company has confidence in advance that it will get that freight versus a last-minute spot market.
The community concept
Trimble's January 2020 acquisition of the Kuebix shipper TMS platform is part of Trimble's strategy to develop an integrated Software-as-a-Service (SaaS) platform for shippers, carriers and freight intermediaries.
The company is moving forward on a platform that all parties can use to optimally procure, plan, and execute contract, dynamic, and spot freight with capacity, Langley explained.
Community Load Match is that platform in action, pairing shippers with Trimble's large install base of private fleet and commercial carrier customers that collectively use its software products to manage 1.3 million commercial assets in North America.
Community Load Match works with shippers and carriers who are interested in solving the freight procurement problem by having more visibility, connectivity and shared intelligence.
"What we will never do is get between a shipper and carrier, like a digital freight broker, to set the pricing or share confidential data without permission," Langley said. "Our goal is to be the enabling technology empowering shippers, carriers and intermediaries to redefine the way they do business together."
A carrier in the freight community, for example, may need loads from Chicago to Atlanta. The platform's data analytics could automatically identify this need and make an introduction to a shipper with an RFP for that specific lane.
Carriers of all shapes and sizes can realize the value of technology that enables them to operate at scale as an asset-based 3PL, and present solutions to shippers within a community, Langley said.