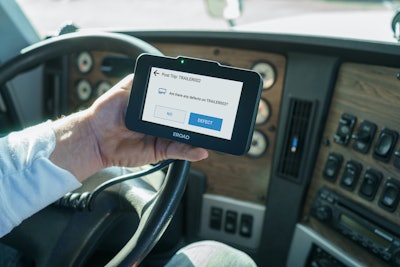 Fleet management technology news briefs for the week of July 26
EROAD to grow telematics presence with Coretex acquisition
EROAD has a conditional agreement with Coretex to acquire the telematics provider and expand its market presence in North America, Australia and New Zealand.
The acquisition, said EROAD, will accelerate the company's growth metrics by two years in North America and Australia by adding 64,177 connected units. EROAD supplies in-vehicle fleet management, dashcams and trailer telematics.
"To accelerate growth, any acquisition target needed to deliver increased capability, improved customer experiences and access to additional market verticals. In Coretex we have found a highly complementary partner which allows us to satisfy these criteria," said Steven Newman, chief executive of EROAD.
The acquisition is expected to complete in the second half of EROAD's 2022 fiscal year.
Phillips Connect partners with Velociti for trailer telematics support
Phillips Connect is now using Velociti to install its trailer telematics system for new and current fleet customers and to provide post-deployment monitoring, support and repair services.
Customers of Phillips Connect will have a designated Velociti project manager to arrange for equipment installation by certified Velociti technicians, the company said. Phillips Connect's asset health monitoring will be integrated with support provided through Velociti's VeloCare service.
Tenstreet creates FleetCheck survey module
Tenstreet, which supplies a driver applicant tracking and qualifications platform to carriers, developed a new FleetCheck survey module for its customers to send an anonymous two-question survey to their drivers once or twice a week, depending on preference.
The survey is like an NPS tool, the company said. When drivers take FleetCheck surveys, their fleets have dashboard reporting that compiles the results to show an overall ranking, how many drivers responded, which drivers have not responded, and which drivers gave a below average score (i.e., the detractors).
A below average score is an indication of an at-risk driver. The survey gives detractors the option of foregoing their anonymity if they wish to discuss their issue one-on-one with their manager.
Orbcomm releases Tractor ID sensor for trailer telematics
Orbcomm has a new wireless Tractor ID sensor to confirm trailer pairing events with trucks.
The Tractor ID sensor uses Bluetooth and radar filtering technology to ensure that tractors connect to the desired trailer. When drivers approach an assigned trailer, the system filters out nearby trailers that could lead to inaccurate pairings.
When a driver connects to the correct trailer, an automated notification goes through the integrated Orbcomm telematics platform to the customer's dispatch system. The connection is validated before the driver leaves the yard.
The ruggedized peripheral has a built-in battery designed to last more than seven years of continuous usage without an external power source.
Samsara partners with EVgo to assist fleet customers with electric transition
Fleet ELD and telematics provider Samsara and EVgo, the nation's largest public fast charging network for electric vehicles (EVs), have partnered to help fleets accelerate towards EVs.
EVgo is now the first electric vehicle partner on Samsara's Experts Marketplace, a network of certified implementation experts. EVgo designs, owns, operates and maintains a network of more than 1,100 Level 2 chargers and 800 direct current fast charging locations across 34 states.
In addition to maintaining the largest public fast charging network in the United States, EVgo provides dedicated charging hubs and fleet depots.
By 2025, an estimated 6 million commercial EVs are expected to be on the road globally. Since 2018, Samsara customers have driven more than 160 million cumulative hybrid and electric miles.
"Samsara serves more than 20,000 customers across industries that are ripe for electrification and we're excited to partner with them to further accelerate the adoption of EVs," said Jonathan Levy, chief commercial officer at EVgo,
SmartHop dispatch software integrates with DAT freight network
SmartHop, a load matching and dispatch system for small carriers and independent owner-operators, has integrated load data from DAT Freight & Analytics to give its customers access to more loads.
"There's fierce competition for truckload capacity today and our integration with DAT opens up millions of new loads and roads for independent drivers and small carriers," said Guillermo Garcia, chief executive and co-founder of SmartHop. "Smaller carriers can access the best-paying loads with more peace of mind in a volatile spot market."
SmartHop says that carriers who use the system are currently booking more than 1,200 loads each month.