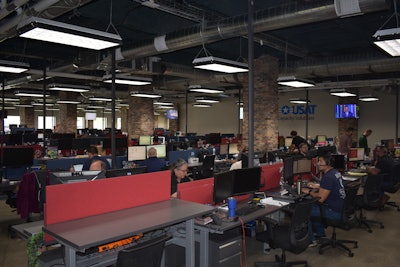 Intense competition for drivers has a few motor carriers trying out an idea they might have dismissed in the past as foolhardy: what if we let drivers chose their own loads?
Companies with owner-operators have been doing this already, but some are now giving company drivers the same freedom and removing a friction point with management. By all accounts, drivers respond positively when granted more control and predictability over their work schedules.
USA Truck (USAT) Capacity Solutions received the 2021 CCJ Innovator of the Year award for a program it created last year called "Drive Your Plan."
The program was an extension of an internal load board and mobile app developed in late 2018 for leased contractor drivers. It proved to be a hit. Driver productivity increased and turnover fell.
Entering 2020, USAT leadership wanted to act on feedback it had been receiving from weekly driver pulse surveys. Company drivers were requesting more control over their work-life and home time.
[Related: USAT Truck gives drivers authority to plan, self-dispatch loads]
In July 2020, USA Truck made the decision to use the same technology for company drivers.
After running some test fleets in the program, "we saw the same results that we did with independent contractors," said Josh Schader, senior director of network execution. "Driver satisfaction was high, and it reduced turnover. There was an increase in productivity mainly because [drivers] are not sitting around waiting for dispatch."
Drivers pre-planning their loads helped reduce deadhead miles and delays between orders.
"The results were staggering from implementation to where we are now," Schader added.
Comparatively, drivers who are participating in the program have 50% lower turnover and are 30% more productive. USAT has also seen higher conversion rates from company drivers to owner-operators.
The program has contributed to a recent string of fortunes. USAT Capacity Solutions' revenues are up more than 30% in the first half of 2021 and net income is up 123.7%. Quarterly earnings per share (EPS) for the publicly traded company have been at record levels for the past year.
Decentralized planning
Another fleet that recently gave drivers self-dispatch authority is flatbed carrier JLE Industries.
In the first quarter of 2021, JLE updated its proprietary DriverOS enterprise resource planning (ERP) system to include a mobile driver app.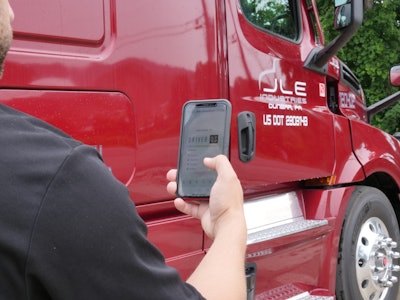 The app is loaded with features that decentralize load planning. Those decisions are squarely in the hands of drivers who JLE calls "professional flatbed talent."
DriverOS has a bundle of new features that were developed using data science and machine learning technology. The system gives company drivers and owner-operators individual load recommendations that factor in driver preferences and goals for earnings, home time and work habits.
[Related: Flatbed carrier puts load planning in drivers' hands]
With the new technology, drivers at JLE have more control, compensation and connectivity than they could find anywhere else in the trucking industry, said Evan Pohaski, chief executive officer.
JLE is on target to increase revenue by 120% year-over-year. The fleet's annualized turnover rate currently sits at 17% and JLE plans to keep it under 20% going forward.
The company's percentage pay model, where company drivers earn 27% of linehaul revenue on loads, and contractors 75%, creates alignment between the company's revenue goals and driver income, he explained.
"When drivers focus on revenue it forces our team to work harder," Pohaski said.
Putting optimization to work
The path toward self-dispatching drivers is not as simple as creating an internal load board and mobile app. Drivers may need optimal load recommendations and to validate their hours-of-service availability, among other considerations, to choose the best options.
Those types of problems can be solved with automation tools that use machine learning and artificial intelligence technology to most effectively utilize assets, resources and drivers.
Paper Transport (PTI), a dry van truckload and intermodal carrier based in Green Bay, Wisconsin, is using such a tool. The company engaged Trimble Transportation to implement a new cloud-based system, Dispatch Advisor, that gives load planners recommendations for how to put the "right driver on right load at the right time," said David Dunst, IT manager for PTI, which operates more than 900 power units in regional, dedicated, local, and intermodal operations out of the Midwest and Southern United States.
Dispatch Advisor gives load planners an explanation for each driver-load match recommendation. This transparency has helped the company speed adoption of the technology by creating trust with users in the information, he said.
The software has made load planners more efficient, the fleet more profitable, and improved the ability to meet home time commitments for drivers, he explained.
Just as technology can give load planners top recommendations for driver-load matching, the same type of visibility could be extended directly to drivers to decentralize load planning and reap the benefits of having a more satisfied, motivated and responsive driver workforce.