Technology news and briefs for the week of Sept. 26: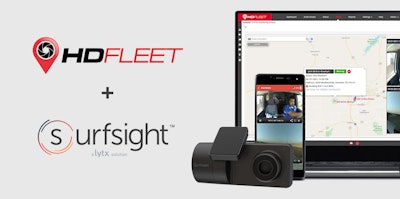 Lytx, HD Fleet collaborate to help parcel delivery services meet rental vehicle safety policies
Lytx Inc. and HD Fleet unveiled a portable video event data recorder (VEDR) for use in rental trucks deployed by parcel delivery service providers.
Parcel delivery contractors, including linehaul and pickup and delivery, often need an approved portable VEDR device installed in their rental vehicles to meet their contractual obligations. Lytx, whose VEDR technology meets corporate safety policy standards, is partnering with HD Fleet to help truck owners identify risky behaviors and coach their drivers to improve safety.
The Surfsight AI-12 VEDR can capture in-cab and road-facing video to help with training and exoneration, providing fleet managers fast, on-demand access to video footage when they need it, subject to cellular connectivity. Using advanced machine vision and artificial intelligence, the Surfsight AI-12 can detect the use of a handheld device, eating, drinking, and smoking while driving, inattentive driving, and not wearing a seatbelt – coaching drivers in real-time to operate more safely.
Adam McCarty, senior vice president of Lytx's channel and international business, said the Surfsight AI-12 device is easy to install, features an intuitive LCD touch screen, and is equipped with Lytx's machine vision and artificial intelligence (MV+AI) technology to detect and deter driving risk.
Transfix set to debut on NYSE
Digital freight platform Transfix Inc., plans to go public on the New York Stock Exchange after entering into a definitive business combination agreement with G Squared Ascend I, Inc., a special purpose acquisition company focused on the technology sector. The closing of the transaction is expected by early next year. The combined company is expected to be listed on the NYSE under the ticker symbol "TF."
Transfix's digital freight platform - powered by its proprietary technology, AI, and automation – works with some of the largest Fortune 500 companies as well as mid- and small sized shippers, and has built a strong carrier community across the U.S.
CameraMatics refocusing on U.S. Market
CameraMatics, an Ireland-based Internet-of-Things fleet and vehicle safety technology specialist, has reengaged in the U.S. market, hiring key industry veterans across the United States. The company just launched a new website specifically designed for decision-makers of American trucking fleets and business-vehicle operators to help them improve safety, efficiency, and compliance.
"Launching our dedicated US website and strengthening our presence in this market is an important milestone for the business. We're extremely excited about the response we received in the US around our solution and look forward to helping all our customers drive new safety standards across their fleet operations and keeping drivers and other road users safe and protected in North America," said CameraMatics Co-founder and Director, Simon Murray. "The future looks very bright."
The CameraMatics SaaS solution is a modular and configurable software platform based on connected camera technology, vision systems, AI, machine learning and telematics, combined with fleet safety modules. To manage overall fleet management, safety, driver behavior, and compliance, many fleet operators use multiple systems, but those systems are generally not built to work together. CameraMatics is in-house developed and designed as a comprehensive, one-stop-shop, intelligent solution that helps address the challenges fleet operators face, and is ideal for all kinds of fleet types, sizes, and industry sectors.