Technology news and briefs for the week of Nov. 7:
Transportation Insight Holding Company acquires Platinum Circle
Transportation Insight Holding Company (TI Holdco), a North American provider of non-asset, tech-enabled enterprise logistics and freight brokerage solutions has acquired Platinum Circle Group, a parcel transportation technology and managed services company. The acquisition adds next generation transportation management and e-commerce technology solutions to TI Holdco's end-to-end logistics platform. Platinum Circle Group will operate as a subsidiary of TI Holdco.
Platinum Circle Group, led by founders Jim Hamilton and Tim Geiken, has developed technologies that help shippers optimize transportation spend through a combination of data analytics and visualization tools, freight management systems, reporting solutions and proprietary TMS. The company's technology solutions allow shippers to optimize and manage costs in real-time from the moment an individual SKU is entered into an online shopping cart through final mile delivery, and provides services to some of the world's largest retailers, distributors and e-commerce companies.
"By teaming with TI Holdco, we are putting the pieces together to link the critical data, analytics and transportation management technologies needed to transform the transportation industry," said Hamilton. "Our focus on delivering complete transparency and actionable insights throughout the parcel supply chain, along with TI Holdco's strengths in brokerage, managed transportation, enterprise logistics and last mile delivery solutions, will create compelling new growth opportunities and move the industry forward."
Lytx adds suite of features to Lytx Driver App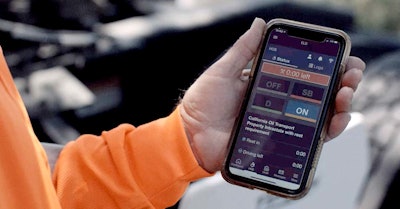 Lytx has introduced a suite of tools to put drivers in control of their performance, safety and compliance. Available now on the Lytx Driver App, drivers can use their Android or iOS devices to track and improve on-road performance with minimal fleet manager input or intervention.
Rajesh Rudraradhya, Lytx chief technology officer, said with the current global economic situation, drivers are busier and more stressed than ever before and "these driver-centric tools are an investment to reduce the burden of their day-to-day job, helping them stay positive and motivated as they go about performing a critical service that we all rely on."
Features available today in the Lytx Driver App include video (the Lytx Driver App gives drivers quick access to video recorded by Lytx DriveCam Event Recorders. A scrolling feed of video clips provide an objective overview of past trips); self-coaching (leveraging video-playback capabilities, drivers can track their individual performance and focus on driving improvements.); performance metrics (drivers can access performance trends over a 90-day period, which gives them the ability to track their progress, proactively address new risks, and celebrate improvements.); driver recognition (the Lytx Driver App also allows drivers to compare their performance to others, and managers can use the data to set up recognition programs for outstanding safety performance.); route risk (available to the everyone at no cost, this feature helps drivers avoid or manage potential roadway hazards. It alerts drivers to slowing traffic, crashes, inclement weather, pedestrian crossings, children playing, wildlife crossings and other potential dangers.); ELD compliance (drivers can record ELD HOS status and complete vehicle inspections from their tablets or smartphones.); and driver ID (drivers can access their individualized QR code along with instructions on how to scan it, eliminating the need to carry and manually scan a physical badge.)
Media giant Hearst acquires majority stake in Noregon
Hearst has agreed to acquire an 80% stake in connected vehicle solution provider Noregon Systems, Inc. Noregon Systems founder and Chief Executive Officer Bill Hathaway will retain a 20% ownership stake and continue to serve as its CEO. Terms of the deal were not disclosed.
"Bill Hathaway and his colleagues have built a great company that plays a vital and growing role in keeping the trucks on the road that power our economy," said Swartz. "We look forward to partnering with Bill and his team and to welcoming them all to Hearst."
Hathaway founded Noregon in 1993 as a custom development solutions provider for OE manufacturers in the trucking industry. In 2007, the company launched its flagship commercial product – an all-makes commercial vehicle diagnostic application, JPRO. In addition to JPRO, some of the solutions Noregon offers include NextStep Repair — an interactive maintenance guide offering step-by-step instructions to guide technicians through repair issues — and TripVision Uptime — a remote diagnostics platform empowering fleet personnel to operate more efficiently to reduce breakdowns and cut repair costs.
Hearst is a global, diversified media, information and services company with more than 360 businesses under its umbrella, including ownership in cable television networks such as A&E, History, Lifetime and ESPN; global financial services leader Fitch Group; Hearst Health, a group of medical information and services businesses; transportation assets including CAMP Systems International, a major provider of software-as-a-service solutions for managing maintenance of jets and helicopters; 33 television; newspapers such as the Houston Chronicle, San Francisco Chronicle and Times Union (Albany, New York); and nearly 250 magazines around the world, including Cosmopolitan, ELLE, Men's Health and Car and Driver.