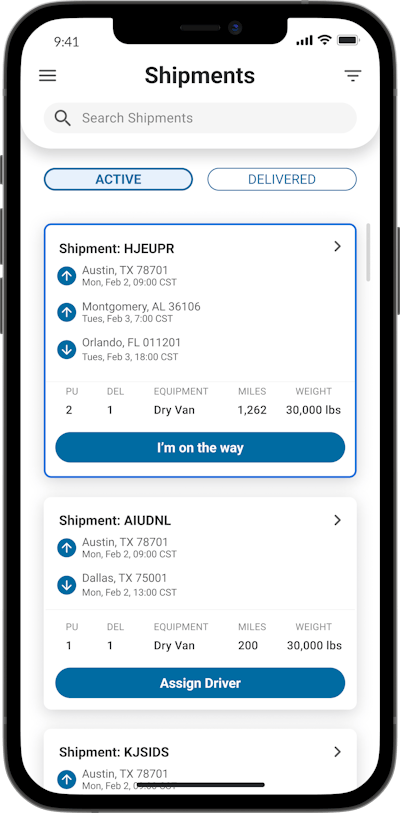 Shipwell
Cloud-based shipping and logistics company Shipwell has launched a new, all-in-one shipper mobile app that includes simultaneous access to a transportation management system and a visibility tool.
The app, which focuses on both the shipper and the carrier, is designed to increase capacity, especially during busy times like the current produce season. Shipwell said in a news release that the app can help increase productivity, streamline business functions and supply chain management, improve turnaround times, offer better communication between shipment partners and improve customer service quality.
While the app was created to allow shippers' remote workforces to communicate with other shipment partners, it also has a carrier/driver/dispatcher-focused side.
Drivers, dispatchers and owner-operators can use the app to book loads, manage documents, message shippers and track shipments in real time. Carriers and shippers can manage their supply chains, have improved visibility into shipments, connect with shipment partners and manage and report shipment exceptions in real time.
"Proactively resolving and mitigating exceptions and their impacts have helped us achieve 98% on-time-delivery and on-time-pickup metrics for our customers," said Shipwell Vice President of Product Jerry Holbus.
The visibility and tracking tool, called Compass Dashboard, houses all shipments within multiple alert tiles that have been sorted into statuses such as 'late pickup or delivery,' 'critical shipment,' 'not tracking' and many other related categories. The users can proactively resolve exceptions by choosing relevant corrective actions corresponding to each alert category, all from one screen.
Shipwell's technology uses machine learning for accurate ETA predictions that factor in upcoming traffic and weather the shipment will encounter in an effort to streamline processes from first to final mile.