Technology news and briefs for the week of May 22, 2022:
Drivewyze partners with Verisk to add cargo theft alerts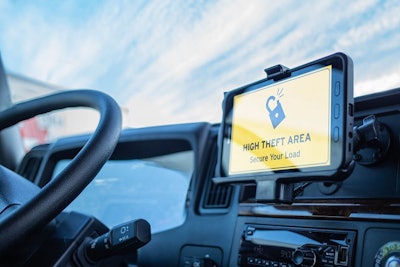 Drivewyze has added a new feature to its platform.
The company has partnered with Verisk, provider of CargoNet, to provide cargo theft alerts on the Drivewyze Safety+ subscription service, an in-cab SaaS product that provides context-based, proactive, customizable, driver safety notifications through existing ELDs or telematics devices.
Drivers will receive cargo theft alerts when approaching one of the top 50 riskiest parking locations and top 50 riskiest counties in the country. Safety+ will display a driver-safe visual and audible warning through the in-cab ELD or telematics device as they approach these high-risk areas.
The alerts are fully automated and require no driver interaction.
Data from CargoNet shows cargo theft incidents are on the rise.
CargoNet reported cargo theft incidents increased by more than 5% in the first quarter of 2022 compared to the fourth quarter of 2021. Last year, nearly 1,300 incidents of cargo theft were reported in the U.S. and Canada, with approximately 50% of thefts occurring in California, Texas and Florida.
High-risk areas are updated regularly based on the latest data from CargoNet. Subscribers also receive daily "hot theft zone" alerts to be informed on the latest incidents of cargo theft throughout the U.S. and Canada. CargoNet's database receives and integrates cargo theft data from law enforcement, insurers, transportation companies, manufacturers and retailers.
3G TMS integrates Parade's capacity management platform
Freight broker software provider Parade has partnered with 3G to connect its truckload capacity management platform with 3G's transportation management system.
With this integration, Parade adds capacity management to a freight broker's execution workflow to automatically qualify carriers, post to load boards and match loads to capacity, all within 3G's TMS. And Parade's carrier profiles are also connected to 3G's TMS enabling seamless booking, carrier re-use and management workflows.
Parade said freight brokers can book more loads in less time with better margins when using Parade and increase their capacity to manage those loads with 3G's TMS.
With Parade, carriers have the option to quote and digitally book loads; freight brokers can improve carrier relationships and add new carriers easily to grow their carrier base and increase carrier re-use; and carrier reps can post loads where their preferred carriers are finding and booking freight.
Solera adds upgrades to Omnitracs One platform
Solera Holdings LLC has added several enhancements to its Omnitracs One platform, which integrates driver, office personnel and fleet manager applications into a singular platform.
These upgrades include unlimited third-party mobile or web applications integration to create a comprehensive, unified driver experience. Third-party applications can be configured to launch from within the driver's circle of service workflow or as a stand-alone application available to the driver at all times. Another update is a secure, single sign-on login so customers can access Omnitracs One and SuperVision products within a single portal.
The upgrades also include improved navigation data through integrations with both Trimble Co-Pilot powered by Trimble Maps and Verizon Connect Navigation. These integrations provide truckers with information about roads to avoid and areas with truck restrictions.
And integration with the Trimble Transportation Cloud platform enables new and existing customers to quickly and easily integrate Trimble's TMS with Omnitracs One, allowing for faster migration of data.
The Omnitracs One platform has also integrated with Velociti (including Samsung, SOTI and RAM Mounts) for managed mobile device management (MDM), device acquisition, provisioning and deployment, providing a more streamlined and reliable service.
Upgrades also include a new data product, Solera Fleet Solutions Location Intelligence, that provides information on shipper locations within Omnitracs One.