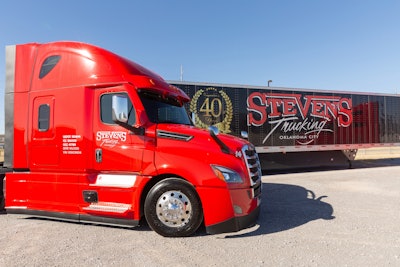 Stevens Trucking
June is national safety month, and one trucking company has been striving to improve its safety scores with a three-pronged approach that includes an app, cameras and lots of driver coaching.
And it has paid off.
Oklahoma-based Stevens Trucking has not experienced a single cellphone-involved incident over 100 million annual miles in the past three years.
Cole Stevens, vice president of sales at Stevens Trucking, said his company achieved this by reinvesting in technology.
"We weren't necessarily having any specific incident; it wasn't just cell phones," he said. "We realized a pain point for the company was insurance costs; they started to creep up, and we've always tried to pride ourselves on keeping a low cost because our safety metrics are very good. So as they started to creep up as we were growing, we're like, 'We've got to pivot a little bit and try out some new things."
Stevens Trucking implemented Lytx's driver-facing cameras nearly six years ago to help improve safety and has one to two staff members dedicated to monitoring video and coaching drivers on their behavior, including cellphone usage. Stevens said it has allowed the company to follow trends among drivers and focus its efforts on changing those specific behaviors, like if the company's speeding incidences are up over the past seven or 14 days.
The company also adopted NOCELL Technologies's app, which Stevens said is placed on a driver's cellphone as a last resort if they are caught using a cellphone outside of company policy. The app allows the company to control what drivers can access on their phones, and a NOCELL tag is placed in the cab to detect when a vehicle is in motion, at which point it disables unauthorized apps.
NOCELL has a partnership with Stevens' insurance provider, Nationwide, to make its distracted driving management platform available to the insurer's commercial fleet customers.
In addition to helping eliminate cellphone-related incidents, the app, along with the company's other approaches, has helped lower the cost of Stevens Trucking's premiums as well as contributed to the company's CSA scores related to drivers staying at or below the national average.
"That's not to say that we haven't had drivers using a cell phone. If a company our size tells you they've never had a driver using the cell phone, then they're lying, but it has mitigated a lot of our risk," Stevens said. "We have all those other technologies in place that aid the driver in getting down the road safely."
Stevens said the company also orders trucks with lane departure alert systems, adaptive cruise control technology and front-end collision mitigation systems.
But he said all of that technology cannot reduce the risk, liability and loss and maximize productivity without internal administrative focus on training drivers daily.
"It's not … going to magically do it by itself," Stevens said. "Really it's whether or not you, as a company, put the man hours and the effort into the coaching."