Kenworth in 2012 introduced the T680 as a third-generation aerodynamic conventional tractor and eventual successor to the T660 and T700. Last year the on-highway flagship helped propel Kenworth to a 15.8% Class 8 marketshare in the U.S. and Canada – a record for the company.
When it debuted nine years ago, the T680 was the lightest truck in the industry and was Kenworth's crown jewel of engineering.
"Back in 2012," noted Kenworth General Manager Kevin Baney, "we were like 'This is as good as you can get.' We didn't think we could make it more aerodynamic."
Nearly a decade of technology and innovation (and regulations) has moved the goal posts, and to stay in the game the T680 Thursday got its first significant update since it initially rolled down the Chillicothe, Ohio, assembly line.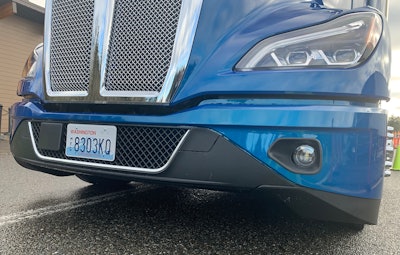 Into the wind
I was able to get my hands on two pre-production models (a 76-inch high roof sleeper and a day cab) for a drive around the Renton, Washington, area – only my second such drive during this COVID-era reality in which we all currently live.
It felt good to get out of the house and put this NexGen tractor into the Pacific Northwest wind, even if the weather was Seattle-area stereotypical: gray and wet.
Visually, the truck is striking. It's really a very un-Kenworth-like update in that there are very few little tweaks. The changes are both obvious and aggressive. There's nothing subtle about it. And that Deep Cerulean blue body color? Wow.
PPG noted in its 2020 automotive color popularity report that blue hues continue to increase in popularity and climbed to 9% of global color share last year. PPG Color Styling Manager Misty Yeomans noted that blue is an optimistic, comforting color that conveys trust, dependability, confidence, healing and hope. "It's also associated with nature, cleanliness and future-forward technology," she said.
Deep Cerulean on this truck was clearly foreshadowing.
The new T680 "is the most aerodynamic truck in company history," said Kenworth Chief Engineer Joe Adams. The sweeping body lines give the truck a sense of fluid movement even sitting still – a kind of new school cool the company's fleet trucks historically have lacked. The prior generation T680 was an aerodynamic truck, especially so if you spec'd the Advantage package, but with incremental improvements heaped on via fairing extensions, closeouts and such, it was sneaky how it went chasing gains.
The new T680 is as sneaky as a train whistle, plopping down 10% better aerodynamics over the prior generation.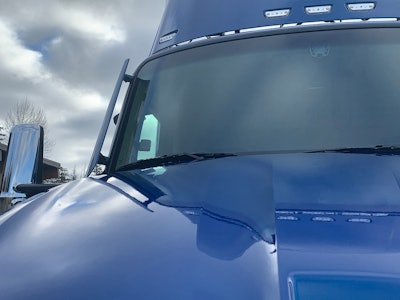 Noteworthy exterior enhancements on the T680 include optional LED headlights and high-visibility LED side turn indicators, which increase visibility for cars along the truck's side. Even with the more modern styling, there's still plenty of Kenworth legacy – the long hood, for example, which is now 8 inches more narrow thanks to the aerodynamic refresh. You definitely know it's a Kenworth when it's coming at you.
Narrowing the hood was enabled by lowering the radiator, and a side effect of lowering the engine in the frame rails was a fairly significant reduction in cabin noise. The side air intake has been restyled, but the front end maintains Kenworth's classic wire mesh grille.
The front bumper has an improved profile to direct air past the wheel openings to improve aerodynamics and features a flexible air dam to control airflow under the cab, yet it offers the same approach angle and ground clearance as the current T680. An offset radar housing allows the front license plate to be mounted centered in the bumper. Plates mounted below the bumper create drag.
Fender tops are lower on the new model compared to current generation, creating a sharp cutoff at the rear that releases the air cleanly in front of the steps. A passive vent behind the wheel well opens to let crosswinds to pass through, improving airflow and cutting down on the pushing effect from crosswinds themselves.
Designed to be easily removable, chassis fairings improve ingress and egress while contributing to the tractor's improved airflow. A flip-style battery inspection panel makes it easy to perform pre- and post-trip inspections on electrical components. The lower fairing extension is comprised of a robust material and engineered to deflect without damage.
Improved chassis packaging presents an opportunity for a shorter wheelbase and a reduced trailer gap of between 38 to 42 inches and optional sleeper side extenders are designed to open to allow for frame access with the tighter trailer gap.
Adams noted that the A-pillar mounted turning vanes, lower air dam, wheel well close outs, tandem fairings, wheel covers and side extenders all lead to 6% fuel economy improvement when combined with a Greenhouse Gas Phase 2 compliant MX engine.
Penetration on Paccar's MX engines have hovered in the 50% range for a number of years, which Kenworth Product Manager Ryan Reed attributes mostly to drivers reluctant to give up 15-liter power, even if they don't really need it. The MX tops out at 13 liters.
Take rates on automated transmissions have skyrocketed, reaching more than 85% currently.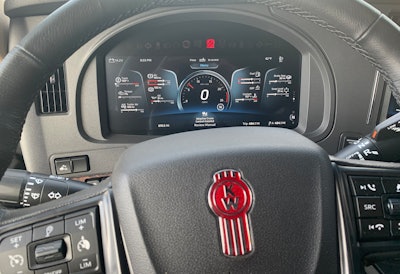 Tech update
Upon climbing into the driver's seat, the most significant update to the new generation T680 is literally staring you in the face.
Mounted just behind a new smart steering wheel is a 15-inch digital instrument cluster. "Oh, great. Another screen." I can hear that already, but hear me out. It's really a smart and well-done innovation.
The new T680 is the fruit of a six-year development program. Engineers rode along with drivers in 2015 to observe how they were using their trucks, and Reed said the need for a better dash display quickly surfaced.
"We saw that existing instrumentation was overloaded," he said. "We knew we needed something larger and more flexible."
The 15-inch display baked into the T680 is notably larger than more familiar 12-inch (+/-) displays often borrowed from automotive partners or suppliers. The screen itself is fully customizable via roller switch in the steering wheel, allowing drivers to pick and choose how much (or how little) information they want to see. In cases where you want just the bare minimum – just truck speed, for example – items not shown will automatically surface on the screen when the system recognizes they need attention – maybe your DEF level is getting low, for example.
I like having a lot of truck information in front of me, and I also like not having to look over to the wing panel for all of it.
Since there are no mechanical parts, and a data bus instead of individual wires, Reed said the standard high definition digital driver display system is considerably more reliable than traditional instrumentation. The digital display can also facilitate a systems check – a pre-trip inspection of sorts – on 13 different systems, displaying a green checkmark with each passed test. Post-trip, a detailed trip information screen provides a breakdown of noteworthy metrics from the most recent trip.
Also new for this NexGen tractor is active lane keep assist. Lane departure warning, adaptive cruise, collision mitigation, and side object detection are holdovers from generations prior but active lane keep assist – enabled by a motor on the steering gear – keeps the truck within its lane. An important distinction is that the system doesn't keep the truck centered in the lane. It will only nudge the rig back left or right once an unintended departure (leaving the lane without an active turn signal) is initiated. Lane centering can be frustrating at times, leaving drivers feeling like they're fighting the truck just because it's a quarter of an inch off-center. Lane keeping is much more passive in that regard, with Reed noting "lane keeping is meant to assist, not to take over the driving role."
The mechanized steering gear also offsets some of the manual input drivers need to make on the highway. The amount of torque assist is based on vehicle speed. Higher speeds get less assistance and the end result is a tighter, more traditional steering feel. It's more noticeable at low speeds, where torque assist makes the steering feel lighter.
Giant leap forward
My test units were equipped with the standard MX-13 spec'd to 405 horsepower and 1,750 lb-ft torque, and the integration of MX power with the automated manual Paccar 12-speed AMT is seamless. The EPA 2021 MX-13 engine features enhanced durability, reduced complexity, performance upgrades, increased down-speeding capability and more effi­cient combustion, all resulting in more power, longevity, uptime and ease of service. It produces an exceptional combination of refined power and capability.
New for 2021 are a number of interior options, giving fleets the ability to add a little splash to their T680 spec-sheet. The cab is 10 inches wider, increasing storage capacity. The big high-roof sleeper is comfortable and spacious, and the swivel passenger seat adds a lot flexibility – for eating, watching TV or doing paperwork – without having to give up space and comfort to a dinette or dedicated workspace.
With its new T680, Kenworth took a bigger leap with technology and aerodynamics than, I think, historically it has been willing to go, and out the other side came one of the sharpest looking and most advanced trucks on the highway.