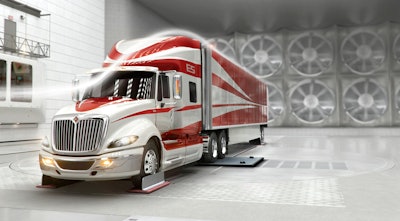 Navistar unveiled Friday its ProStar ES, a truck the company bills as "the best fuel efficiency package in the industry."
Navistar says its ProStar ES (short for efficiency specification), offers industry-leading aerodynamics, a drivetrain with advanced downspeeding and the most efficient rear axles in the industry.
The ProStar ES offers the Eaton Cummins SmartAdvantage powertrain which pairs the Cummins ISX15 to an Eaton Fuller Advantage automated transmission. Also available is Navistar's 13-liter, SCR-based N13 and the Eaton Fuller Advantage automated transmission. Both can be matched to either a Dana AdvanTek 40 6×4 axle, a Meritor 14X 6×4 or Meritor FUELite 6×2 axle.
Navistar says the ProStar ES can achieve an 11 percent improvement in fuel economy versus a 2010 ProStar equipped with a MaxxForce 13 liter engine and 10-speed manual baseline.
"The ES is a package; an ecosystem if you will," says Jodi Presswod, vice president, heavy-duty truck product line. "We have customers already running this spec today and they say it outperforms every other truck in their fleet, including other makes."
Aaron Peterson, chief performance engineer for Navistar, says the truck's aerodynamics were tested at NASA's Ames Research facility. As a result, Peterson says, the company was able to reduce aerodynamic drag on the ES tractor and trailer to the point that it "outperforms the competition in virtually any wind condition out on the road."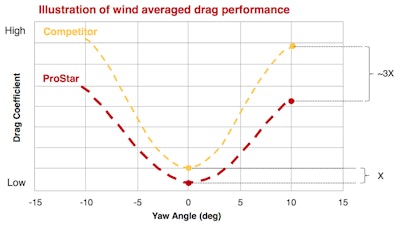 The higher the yaw angle of the wind, Peterson says, the better the ES performs versus the competition.
From a cosmetic and "hard parts" standpoint, Peterson says very few changes were made the truck itself.
"Most impactful," he says, "is the attention paid to packaging the vehicle into its most efficient form."
Navistar has also made its Performance Engineering Team available to meet with customers to help spec the most efficient truck for their application.
Navistar will begin taking orders for the ProStar ES Dec. 15.