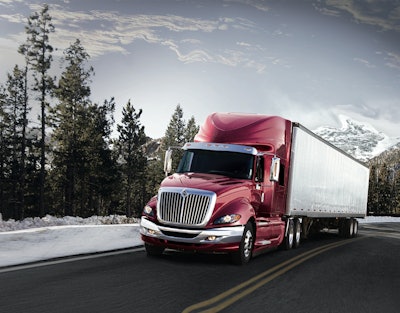 Navistar International Corporation announced Dec. 16 it posted a net loss of $72 million in the fourth quarter of the 2014 fiscal year — slicing its fourth quarter loss in 2013 ($154 million) by more than half.
The company also announced a loss of $619 million for the entire 2014 fiscal year — an improvement over last year's loss of $898 million. Revenue for the year was unchanged at $10.8 billion.
Navistar reported revenue of $3 billion for the fourth quarter, a $257 million increase from 2013's 4Q revenue.
Navistar President and CEO Troy Clarke says the numbers reflect the progress of the company.
"In 2014, we increased our production, chargeouts and order backlog; continued to reduce warranty spend; and achieved structural cost savings that further lowered our breakeven point," Clarke said.
The company's truck segment reported a $55 million loss in the quarter — a $300 million improvement from last year's 4Q.
Higher truck sales, declining warranty expenses and lower structural costs helped narrow the loss, Navistar said.
The truck segment lost $408 million on the year, again cutting its 2013 loss — $902 million — in half.
The company's parts segment buoyed losses elsewhere, posting a $143 million profit in the quarter and a $500 million profit for the year.
Navistar's warranty spend improved in the fourth quarter, down 22 percent year-over-year. These results were driven by quality performance improvements, lower repair costs and a reduced population of legacy engines still in the warranty periods.
Clark says the company is in a "much stronger position" heading into 2015 than in recent years.
"We've restructured our core North American business, have the right products in place, and established the right leadership team. We are well-positioned to meet our 8-10 percent EBITDA margin run rate target exiting 2015."