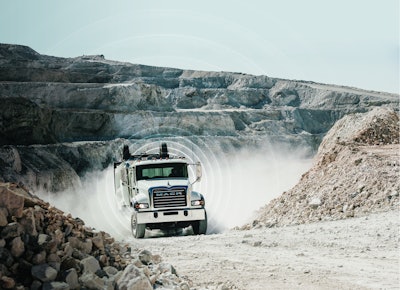 Mack Trucks at the Work Truck Show in Indianapolis on Wednesday announced a new package for over-the-air (OTA) engine update customers in need of more frequent parameter changes.
Now available for order, the Mack Parameter Plus package enables up to 50 parameter updates per VIN over a 12-month period on all model year 2018 and newer Macks equipped with GuardDog Connect. Previously, customers were limited to just two parameter changes per truck per year as part of their Uptime subscription.
There remains no limit for Mack-initiated software updates. Mack Parameter Plus also is available for previously purchased vehicles with EPA 2017 engines.
Along with setting the speed limit, potential parameters changes include updating the engine to economy mode or performance mode.
Mack Trucks Construction Product Manager Tim Wrinkle says 350 customers have signed up for OTA since 2017 – covering 6,200 trucks that have performed 2,100 updates. He says OTA customers have saved approximately 1,900 days of downtime.
Mack Over The Air delivers software and parameter updates directly to a customer's truck through Mack GuardDog Connect, the company's fully integrated telematics solution. Working with Mack OneCall agents, fleets can schedule updates when most convenient. The average time to complete an update, Wrinkle says, is about 22 minutes and requires only that the key is in the ignition and the truck is parked.