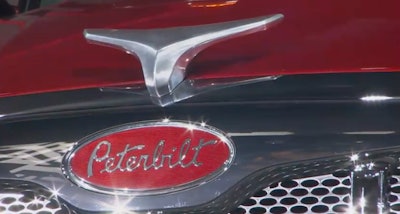 Peterbilt on Wednesday debuted virtually its next generation Model 579. The truck was unveiled via YouTube livestream, with 1,700-plus viewers tuning in worldwide.
Pete's on-highway flagship 579 was a clean sheet design when it arrived in 2012, and Peterbilt General Manager Jason Skoog said its update has been years in the making. "Five years of relentless focus on improving uptime, increasing fuel economy and taking driver comfort to new heights," he said at the truck's unveiling event.
The new 579, boasting a 7% fuel economy improvement over prior generation models, is the most aerodynamic and fuel-efficient Peterbilt model built to-date, enabled by a new exterior design that features a new sloped three-piece Metton hood, optimized aero components, and 2021 Paccar MX-13 and MX-11 engines paired with the Paccar transmission.
Dynamic aero
Peterbilt Director of Product Planning Andy Weiblen said nearly 8 million CPU hours were poured into making the updated Model 579 the company's most aerodynamic truck ever, and the truck design was fine-tuned with feedback from more than 50 fleet partners.
A new three-piece front bumper integrates the forward radar cover for collision mitigation with a larger aerodynamic air dam. Improvements to the aero mirrors, fairings, side skirts and closeouts help improve the overall aerodynamic shape and an A-pillar vane slings airflow around the windshield to reduce friction, delivering a 10% noise reduction in the cabin.
Standard halogen headlamps have been improved, and heated LED headlights are available.
A small detail that even Peterbilt diehards might miss is Pete's iconic aerodynamic bird hood ornament/pull handle has been integrated into the hood's side vents. Not so much of an aero-play as it is a nod to heritage. Plus, it's a nice accent piece.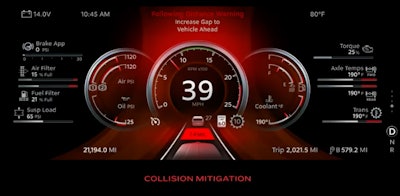 Tech updates
The new Model 579 gets a major tech upgrade, and the biggest piece of that is front and center, literally.
A traditional analog gauge cluster is replaced by 15-inch digital display featuring a fully customizable user interface (UI) with various combinations of digital gauges on the main screen. Operators control the digital UI through one of three different "Drive View Zones" and can fine-tune the information shown through the use controls found on the all-new smart steering wheel. Minimized View eliminates everything but the speed and tachometer. Basic View presents traditional information found on analog dashes with air and oil pressure, fuel and DEF levels, and water temperature all prominently displayed along with speed and tach. Enhanced View builds upon the previous views, displaying the maximum number of gauges from a list of more than 30 data feeds.
The digital display can also perform a systems check – a pre-trip inspection of sorts – on 13 systems, displaying a green checkmark with each passed test. Post-trip, a detailed trip information screen provides a breakdown of noteworthy metrics from the most recent journey.
Incorporated within the digital display is the Advanced Driver Assistance Systems (ADAS) with integrated camera and radar technology. Advanced features, including collision mitigation, overspeed alerts and lane keep assist, are displayed prominently in the center of the display screen.
The Digital Vision System provides drivers enhanced, camera-enabled vision around the truck at all times including at night and in inclement weather.
The new Model 579, which also features additional storage and an improved Bluetooth microphone, is available for order starting now in a day cab configuration, integral 80-inch UltraLoft sleeper and other sleeper sizes.