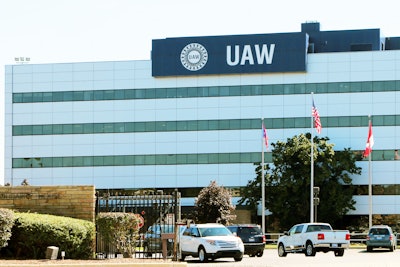 Talks between Volvo Trucks North America and the United Auto Workers (UAW) union at Volvo's New River Valley (NRV) truck assembly plant are continuing, both groups told CCJ Thursday evening. 
UAW Local 2069 workers in Dublin, Virginia, went on strike Saturday, April 17, following the lapse of a 30-day extension to a five-year contract that expired March 15. Negotiation between the two groups kicked off this week. 
Volvo Trucks North America Corporate Communications Manager John Mies confirmed "that negotiations are ongoing," but declined further comment out of respect to continuing nature of discussion.
Similarly, Brian Rothenberg, UAW International director of public relations, said "talks [continue] at this time, and the strike is ongoing."
Vermont Senator and former Democratic presidential hopeful Bernie Sanders tweeted his support for the union employees Wednesday, calling on Volvo Trucks to "sit down with its workers and negotiate a fair contract now."
"I stand with the UAW Local 2069 workers in Dublin, Virginia striking for a living wage and job security," Sanders tweeted. 
Volvo's NRV plant employs more than 3,300 people and is in the midst of a $400 million investment for advanced technology upgrades, site expansion and preparation for future products. The plant has added 1,100 jobs since the current union agreement was implemented in 2016 and is on track to have a net increase of approximately 600 positions in 2021, according to Volvo.