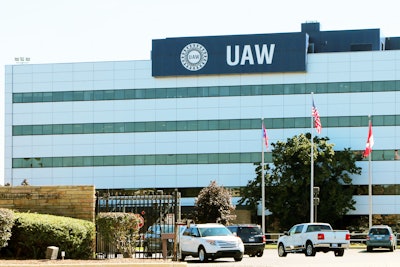 The United Auto Workers (UAW) union strike at Volvo's New River Valley (NRV) truck assembly plant ended Friday after a two-week work stoppage.
The parties reached a tentative agreement early Friday morning. Volvo Trucks North America, via emailed statement, confirmed that "in conjunction with the tentative agreement, the UAW has ended its strike against the NRV plant, effective 7:00 a.m. [EST] on April 30, 2021."
Details of the tentative five-year contract are being withheld until UAW members can be briefed prior to a ratification vote in the coming days, but UAW Secretary-Treasurer and Director of the UAW Heavy Truck Department Ray Curry said via statement to CCJ that striking union members "achieved significant gains toward fair pay, benefits and job security protections."
Once ratified, the contract will cover approximately 2,900 plant employees. Volvo's NRV operation employs more than 3,300 people and is in the midst of a $400 million investment for advanced technology upgrades, site expansion and preparation for future products. The plant has added 1,100 jobs since the current union agreement was implemented in 2016 and is on track to have a net increase of approximately 600 positions in 2021, according to Volvo.
UAW Local 2069 workers in went on strike Saturday, April 17, following the lapse of a 30-day extension to a five-year contract that expired March 15. Negotiation between the union and Volvo Trucks kicked off earlier this week.
UAW previously went on strike at NRV in February 2008, and an agreement was reached the following month.